WNBA Finals tied at 1–1
LOIS ELFMAN | 10/3/2019, 6:21 p.m.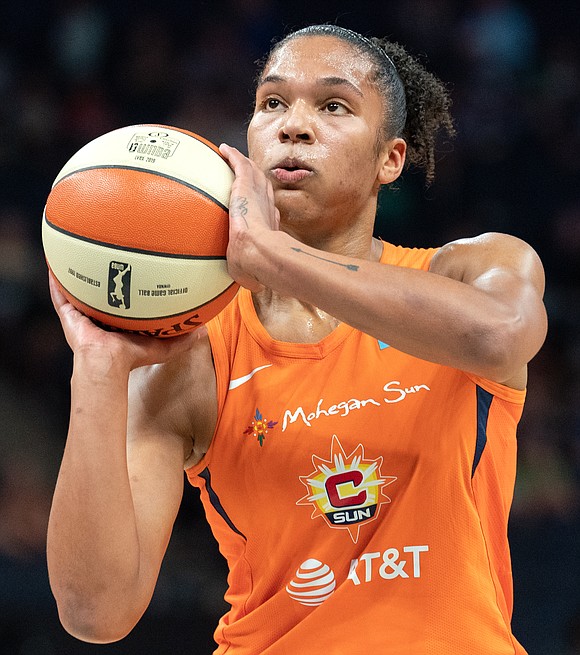 Playing on home court, the Washington Mystics took game one of the WNBA Finals 95–86 over the Connecticut Sun. League MVP Elena Delle Donne was dominant, leading the Mystics with 22 points, 10 rebounds and five assists. Washington players remained calm when Connecticut went on runs.
"Everybody was just kind of able to take a deep breath, stay calm," said Delle Donne. "Jonquel [Jones], she's a great player. She makes some really tough shots. She's got length. So you can send bodies at her and she can elevate and shoot over…She's going to get her points, but you try to limit them and make everything hard."
In game one, the Mystics were able to contain Sun center Jones to 12 points and six rebounds, but Jones came to game two intent on a very different outcome. Setting a WNBA Finals record on offensive rebounds, Jones finished game two with 32 points and 18 rebounds to lead the Sun to a 99–87 win. Forward Alyssa Thomas had 21 points and 12 rebounds, and guard Courtney Williams added 22 points, three rebounds and six assists.
The Mystics were at a decided disadvantage in game two when Delle Donne had to leave the game in the first quarter with back spasms and did not return. Game three takes place in Connecticut on Sunday. Obviously, the Mystics hope with a few days of rest and treatment Delle Donne will be able to play.
In New York Liberty news, the team said goodbye to one of its legends…at least for now. Teresa Weatherspoon, who has served as Liberty director of player development since 2015, was hired by the New Orleans Pelicans as a two-way player development coach, joining former Liberty player and director of franchise development Swin Cash, who the Pelicans named vice president of basketball operations/team development this past June.
Liberty star Tina Charles added another accolade to her resume as Team USA defeated Team Canada 67–46 to win gold at the FIBA AmeriCup. Charles scored 12 points and had 11 rebounds in the gold medal game. Liberty forward Nayo Raincock Ekunwe scored four points and pulled down five rebounds for Canada.
"We got off to a slow start," said Team USA head coach Dawn Staley of the relatively low scoring game. "Once we turned up our defense, got into transition and got some easy buckets, I thought we got into a better flow…We created enough separation with our defense that it helped us win the game."