Young players delight in giving back to the community
LOIS ELFMAN | 10/3/2019, 6:23 p.m.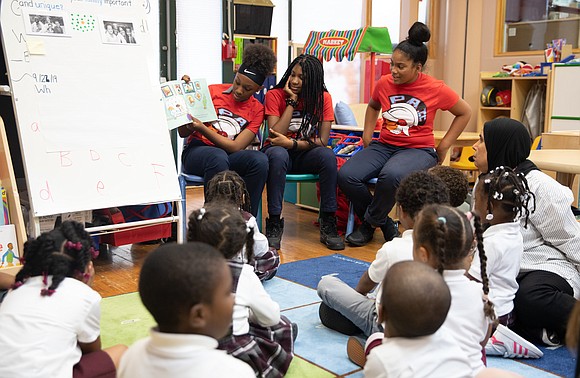 Eight members of the Harlem Children's Zone Promise Academy II junior varsity girls' basketball team marked the Women's Basketball Coaches Association's day of service by reading to Pre-K students at the Harlem Head Start Gems. The basketball players were accompanied by Chiené Jones, athletic director of the Promise Academy Charter School Network, and coach Tiara Blizzard.
Jones said four out of the eight middle school players who took part in the event began their educational journey as participants in Harlem Children's Zone Baby College, a program for parents and children ages newborn to three. Blizzard said it was great for the middle schoolers to engage with little ones starting the same journey they traveled and for the Harlem Gems participants to meet people who once were in their shoes.
"The fact that the kids had that opportunity to give back to their community was important," said Blizzard, who played basketball at Brandeis High School and Tuskegee University and in addition to coaching is a director with Ladies Who Hoop. "They enjoyed it. It was a chance to do something great for the kids. Something so simple goes a long way."
The players read and answered a few questions, and Blizzard said their presence showed the children "growing up, you can do anything you want with sports and meet a lot of great people."
Jones oversees athletic offerings and 25 sports teams, kindergarten through 12th grade. A Queens native, Jones played her college basketball at NYU. Six years as athletic director, she finds enormous satisfaction in her position and takes pride in setting an example for the students as a woman of color overseeing a large sports program.
Having been through Harlem Children's Zone pre-school programs, the basketball players came in ready to engage with the little ones. "Knowing as we go in to read, we're going to have to have a lot of patience with the younger kids," said Jones. "It was amazing to see. They read with enthusiasm. They were able to display their intelligence to the kids, but also that joy for reading."
She added, "It was fantastic for them to be able to do that in a way that was very meaningful to them. They introduced themselves as basketball players, which for the boys especially in the room, it was, 'Wow, these girls play basketball.' We're opening up brand new fans."