GM workers' protest drags on, workers struggle to get by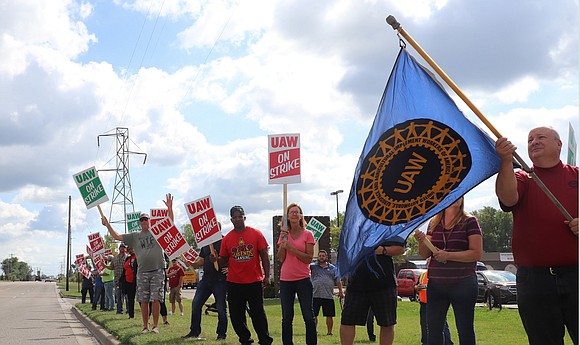 Three weeks into their strike General Motors workers are struggling to get by, suppliers are losing business and GM hasn't budged.
Earlier this week, GM made a new contract offer (details were still confidential) to United Auto Workers. As of press time, they were still awaiting a response. In the meantime, workers are living on scraps compared to what they're usually taking home.
In mid September, United Auto Workers walked off their jobs at GM during contract negotiations. Workers are asking for fair wages, affordable health care, a better share of the profits, better job security and a defined path to permanent seniority for temp employees. The union also wants to shorten the time it takes for in-progression workers to reach high pay status and wants GM to provide apprenticeship programs for trades workers to become skilled tradesmen.
Workers hired after 2007 start at $17 an hour and hit $28 an hour after eight years.
UAW officials also want a better guarantee from GM that it will build traditional vehicles in U.S. plants instead of electric or autonomous cars, something GM CEO Mary Barra sees in the automakers' future.
In a letter to workers, Terry Dittes, vice president and director of the UAW General Motors Department, said that the union submitted an offer on Saturday and GM's response didn't acknowledge the package in their proposal.
"We, in this Union, could not be more disappointed with General Motors who refuse to recognize the experience and talent of our Membership who make their world-class products and billions of dollars in profits," wrote Dittes. "Brothers and Sisters, after making some progress on important issues a couple of days ago, the Company has shown an unwillingness to fairly compensate the great workforce of the UAW.
"These negotiations have taken a turn for the worse," Dittes continued. "Your issues are our issues, and our strength is with you, our great Membership. We will continue to negotiate on behalf of you, your families and all workers in our country."
Suppliers have also felt the brunt of the stalled negotiations. A trade group for auto suppliers, the Original Equipment Suppliers Association, said that more than 100 of GM's suppliers have instilled temporary layoffs in some shape or from of almost 12,000 employees.
"Given the low U.S. unemployment rates and shortage of skilled trades workers, companies may be challenged to ensure laid-off employees return to their previous positions," said OESA CEO Julie Fream. "Upon conclusion of the strike, this could cause extended disruption in the supply chain as suppliers ramp up their production."
GM has lost $600 million in profits since UAW workers walked off the job.
Striking GM employees are currently being paid $250 a week from UAW. According to a report from the Detroit Free Press, the average GM worker earns about $30 an hour. Michigan-based GM worker Meme Edward started a petition telling GM to negotiate a contract fairly (and quickly) with its employees.
"I have worked for General Motors in Michigan for more than two decades, but right now I'm on strike along with tens of thousands of colleagues from 70 facilities in 19 states," wrote Edwards on the petition. "We demand fair wages, a fair share of profits for workers, a path to permanent employment for temporary workers, affordable health care, and job security.
"I met my husband working at this plant," continued Edwards. "We raised our daughters and bought a home in the time we've been here. We have been able to make a stable, middle-class living through this work. But General Motors isn't keeping up with the times, and workers are getting left behind."