Penn State stands behind its players in response to racist letter
JAIME C. HARRIS | 10/10/2019, 1:26 p.m.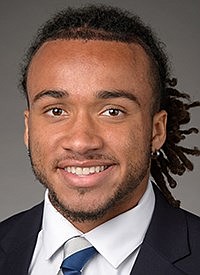 Bob Marley was one of the most inspirational and influential individuals of the 20th century. So was the late Nobel and Pulitzer Prize winning author, Toni Morrison. San Francisco 49ers defensive back Richard Sherman is a graduate of Stanford University, one of the world's most prestigious institutions of higher learning.

Dreadlocks, among other admirable characteristics, binds all three. The beautiful representation of locks as a magnificent and rich facet of African culture also serves as a symbol of an antithetical American ideal for millions of bigoted and racist inhabitants of this country. Even some Black folks view dreadlocks as an obstacle to successfully rising to the upper echelons of corporate America and have disdain for many of the natural, popular hairstyles rocked by countless Black youth.

Penn State head football coach James Franklin, a Black man, has taken a firm, opposing perspective after a fan of the program and alumnus of the college penned a letter to 21-year-old junior Jonathan Sutherland, a safety for the team, filled with racist connotations. Dave Petersen, purportedly a 1966 graduate of Penn State and resident of Johnstown, Pennsylvania, expressed in the missive that he longed for the days when players carried a clean cut appearance. Sutherland subsequently posted the letter on Twitter and it quickly went viral.
Petersen said that he and his wife, who is also reportedly a Penn State grad, "...miss the clean cut young men and women from those days. Watching the Idaho game on TV we couldn't help but notice your—well—awful hair. Surely there must be mirrors in the locker room! Don't you have parents or girlfriend who've told you those shoulder length dreadlocks look disgusting and are certainly not attractive."
He also added that players wearing dreadlocks and sporting tattoos are the reason he no longer watches the NFL and said the same goes for the NBA, two leagues that are predominantly Black.
In response, Franklin vehemently rebuked the letter and defended Sutherland, an exemplary scholar-athlete from Ottawa, Ontario, Canada. "Jonathan Sutherland is one of the most respected players in our program," said Franklin. "He's the ultimate example of what our program is all about. He's a captain, he's a dean's list honor student, he's confident, he's articulate, he's intelligent, he's thoughtful, he's caring and he's committed.
"He's got two of the most supportive parents, and I would be so blessed if my daughters would marry someone with his character and integrity one day."
Penn State's vice president for intercollegiate athletics, Sandy Barbour, posted a tweet writing, "I stand with our Penn State student athletes and appreciate how they represent PSU in competition, in the classroom and in the community. Their dress, tattoos, or hairstyle has no impact on my support, nor does their gender, skin color, sexuality or religion!"
In a phone interview with the publication Tribune-Democrat, Petersen implied his words were taken out of context and weren't intended to be construed as racially offensive. But he furthered the overtones by saying, "I would just like to see the coaches get the guys cleaned up and not looking like Florida State and [University of] Miami guys."

As followers of the Colin Kaepernick saga well know, Petersen is emblematic of a large base of American society.