Randy Weston Way, Ron Carter at Birdland
Ron Scott | 10/10/2019, 11:48 a.m.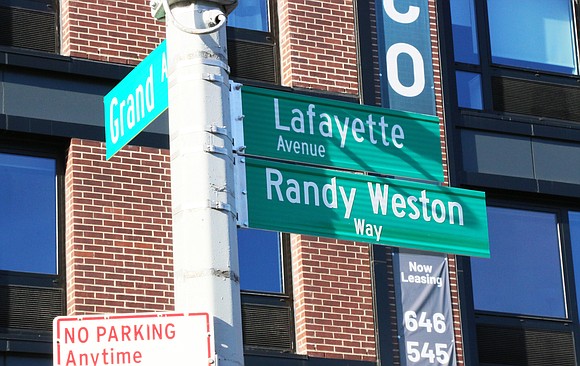 One year after pianist and composer Randy Weston was called by the ancestors his neighborhood street, the corner of Lafayette and Grand Avenues in Brooklyn was co-named Randy Weston Way on Sept. 29.
Over 200 people came out in celebration of Randy Weston Way including such prominent jazz pianists as Monty Alexander, Rodney Kendrick and Danny Mixon (all of whom were influenced by Weston's insight as a musician and his African wisdom), bassist Alex Blake (longtime member of Weston's African Rhythms), saxophonist Billy Harper (a longtime Weston collaborator), percussionist Eric Frazier, saxophonists Bill Saxton and Rene McLean. Bassist Paul West performed a moving solo composition dedicated to Weston. Musicians from the African diaspora included Saliou Suso, a kora player from Gambia, the great Cuban percussionist and Weston's close friend Candido, and Hassan Benjaafar from Morocco.
The poet, author, playwright, novelist Ishmael Reed spoke and longtime member of African Rhythms percussionist Neil Clarke offered the libation ceremony. The Brooklyn constituency of politicians present included Majority Leader Laurie Cumbo with Rep. Hakeem Jeffries, State Senator Velmanette Montgomery, NYS Attorney General Letitia James, State Assemblymen Walter Mosley and Charles Barron, a representative for Public Advocate Jumaane Williams, Brooklyn Borough President Eric Adams, Councilmembers Inez Barron and Bill Perkins and District Leader Olanike Alabi. Many of these politicians were fans of Weston's and pushed the co-naming through in a most expedient matter. Weston's call from the ancestors came on Sept. 1.
His parents, Vivian and Frank, raised Weston on this block. It was his father, a local restaurateur and unwavering Garveyite, who shared his wisdom and seeds of Pan Africanism with his aspiring musician son. Bedford-Stuyvesant was the neighborhood where Weston graduated from Boys High School (known by students as the High, then one of the best schools in New York City) and met fellow schoolmates Max Roach, Dewey Redman and Cecil Payne, who became close friends and later band mates. This was the block where Weston's brownstone became a jazz haven and where young musicians visited including his schoolmates as well as Thelonious Monk, Melba Liston, along with actor Brock Peters and poet Langston Hughes. It was the home where intellectuals and dignitaries from Africa came to sit in the presence of the most humble Weston to discuss projects and exchange ideas as they discussed the motherland. It was the Weston University of Thought and Music where students and established musicians came for lessons, joined by writers, poets, dancers and sincere minds. They came for African history conversations about the ancestors and to talk about how this music called jazz is deeply seeded in our roots of Africa. "It's not about me, it's about the ancestors and the music," Weston often said.
When Weston recorded the two-CD recording "The Spirits of Our Ancestors" (1991, Verve) he was definitely thinking about his home and caring neighborhood on the tracks "African Village Bedford-Stuyvesant 1 and 2."
While Weston composed all of the compositions, the music on "Spirits" is a collaborative arranging effort between Weston and arranger/trombonist Melba Liston. The double-CD all-star cast of musicians included Dizzy Gillespie, Pharoah Sanders, Dewey Redman, Idris Muhammad and Idrees Sulieman.