Reel Sisters honors pioneering, cultural icon Nana Camille Yarbrough Oct. 11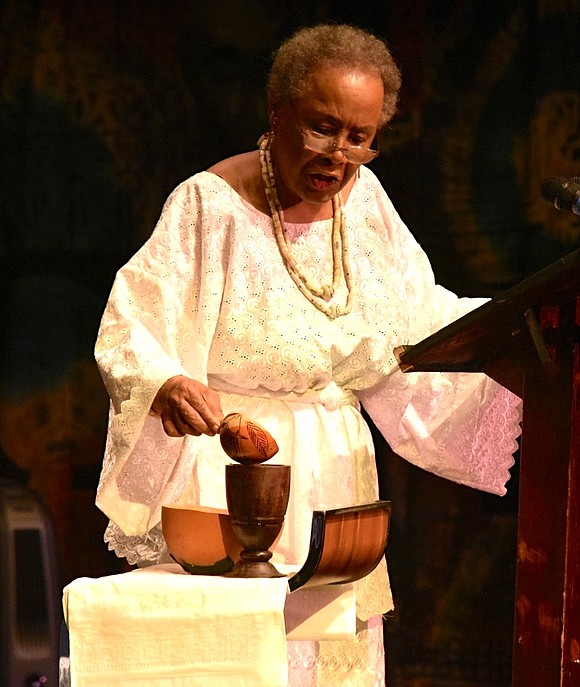 On Friday, Oct. 11, at 6 p.m., Reel Sisters of the Diaspora Film Festival & Lecture Series will honor award-winning performance artist, author and cultural activist Camille Yarbrough with their distinguished Reel Sisters Hattie McDaniel Award for her outstanding contributions to film, television, literature and performing arts over six decades. The Reel Sisters Trailblazer Award will be presented to Sandra Guzmán, producer and lead interviewer of "Toni Morrison: Pieces I Am," and pioneering filmmaker Leslie Harris, director of the classic film "Just Another Girl on the I.R.T." Oscar nominated actress Rosie Perez will present Guzmán with the Trailblazer Award. Cash prizes will also be presented to our award-winning filmmakers. Tickets: $35 ($30 - Bring A Pal discount for 2+ tickets). For tickets, visit www.eventbrite.com/e/reel-sisters-awards-ceremony-toni-morrison-pieces-i-am-screening-tickets-70431505529.
Reel Sisters will celebrate the evening with a screening of "Toni Morrison: Pieces I Am." Following the film, Malaika Adero, former v.p./senior editor of Atria (Simon & Schuster), will moderate a conversation with Sandra Guzmán and artist/scholar/cultural worker OlaRonke Akinmowo, founder of The Free Black Women's Library.
Award-winning producer/actress Andrea Lewis ("Degrassi: The Next Generation"), our 2019 festival curator, will serve as our esteemed Mistress of Ceremonies for an exciting evening of fun, film and networking!
"We are proud to honor our sheroe Nana Camille Yarbrough with Sandra Guzmán and Leslie Harris for their compassionate leadership in paving the way for women in the arts and film world," said Reel Sisters Founder Carolyn A. Butts. "Reel Sisters' theme for 2019 is #IGotYourBack and our honorees are women whose careers are founded on giving back and helping other artists and organizations in our community. We hope their lives will continue inspiring philanthropy and collective progress."
Reel Sisters honors film professionals for their outstanding contributions in film and role in supporting women artists. Previous Reel Sisters award winners include JT Takagi (Third World Newsreel), Terence Nance (HBO's "Random Acts of Flyness"), Tamara Tunie, Nicole Beharie, Cathy Hughes, Naturi Naughton, Issa Rae, Ebony Jo-Ann, Jessica Williams, Margot B., Neema Barnette, Julie Dash, Michelle Materre, Pearl Bowser, Shola Lynch, Lonette McKee, Mahen Bonetti, Mable Haddock, Moikgantsi Kgama, Irene Cara, Madeline Anderson and Kojo Ade.
Founded by African Voices magazine and LIU Brooklyn Campus, Reel Sisters is the first Academy Qualifying Film Festival devoted to women of color. Since 1997, Reel Sisters has showcased over 3,540 films produced, directed and written by women filmmakers in every genre. Reel Sisters attracts more than 2,271 film lovers from across the nation and globe including California, Chicago, Florida to as far away as Britain, Germany, Africa and India. The festival screens over 40 films each year. Reel Sisters also provides scholarships to emerging women filmmakers and offers other resources for women filmmakers.
The Reel Sisters of the Diaspora Film Festival is supported, in part, by Council members Laurie Cumbo (35 C.D.) and Farah Louis (45 C.D.), New York State Council on the Arts, Brooklyn Arts Council and ALOFT Hotel.
Camille Yarbrough is an award-winning performance artist, author and cultural activist. With a career that spans over 60 years, several continents, countless awards and accolades, Nana Camille has earned legendary status. She continues to inspire audiences today via Ancestor House, a local, long-running television show of 16 years, her popular music album (also entitled "Ancestor House"), and performances and lectures focusing on poetry, music, Black art, spirituality and culture.