Sabotaged: After 60 years, has WBAI been silenced?
By CYRIL JOSH BARKER Amsterdam News Staff and By NAYABA ARINDE Amsterdam News Editor | 10/10/2019, 9:17 a.m.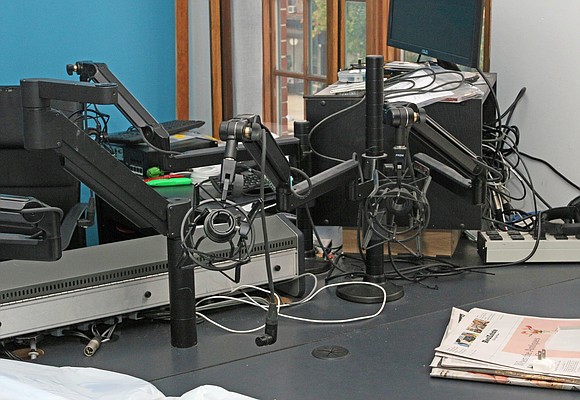 Unplugged microphones and empty chairs are what's left at WBAI-FM's radio studios in Brooklyn after the sudden closure of the station this week.
"They sent me an email—they did not have the decency to look me in the face and tell me," railed General Manager Berthold Reimers. "It raises a lot of questions."
The New York-based, listener-supported progressive radio station shut down Monday, according to a letter from the station's owner, the Pacifica Foundation. The letter was initially posted on Twitter by WBAI host Jeff Simmons.
"Due to ongoing and continued projections to further financial loses at WBAI-FM, local operations are being discontinued as of October 7, 2019," Pacifica said in the letter. "We realize this news will come as a deep and painful shock, but we can no longer jeopardize the survival of the entire network."
Host Wuyi Jacobs posted a photo of a sign at the station on Facebook that said, "Due to exigent, financial circumstances, the WBAI-FM workstation is closed effective 8:30 a.m., Monday, 10/7/2019." All doors were locked, and even the access elevator in next door Commons cafe was locked.
It's a full-out, all hands on deck situation at the broken studios of WBAI.
On Monday when all personnel linked to the Cobble Hill-located progressive radio station were unceremoniously fired by email, news hit the streets quickly, and a call to organize against the Pacifica action was immediate.
The Amsterdam News was the first to report the calamity, as calls were placed immediately to a number of WBAI hosts and associates.
Michael G. Haskins was on air when he was "forcibly" removed from air.
"While we do have a restraining order, Pacifica representatives yesterday destroyed, dismantled and otherwise rendered unusable broadcast equipment," said veteran host Sally O'Brien on Tuesday. "They closed the bank account, put the payroll on hold, etc."
According to another host at the station, WBAI informed all staff, management, hosts and producers on Monday that the station had been taken over by Pacifica National.
"Everybody's been knocked out and lost their positions," the host said.
This week, Judge Frank P. Nervo of the Supreme Court of the State of New York granted a restraining order to WBAI stopping Pacifica from terminating employees, preventing WBAI from broadcasting its regularly scheduled programming and interfering in the orderly administration of the business and affairs of the station. A court date is set for Oct. 18.
The injunction stay puts the station legally in the hands of station personnel. Management made the announcement on Twitter on Tuesday. Photos of a meeting organized by station personnel were posted on social media. Pacifica had seized control of WBAI's signal and programming from the organization's headquarters in California.
Pacifica Radio KPFA host and Pacifica National Board Vice Chair Sabrina Jacobs says the station is $4 million in debt, according to reports.
"It's against the law to have a paid employee working when you're not able to pay them. And that's what we were trying to do," Jacobs said in one interview. "We were trying to avoid breaking the law because we don't have the money to pay those employees."