Where to go in October
SHERYL NANCE-NASH | 10/10/2019, 1:03 p.m.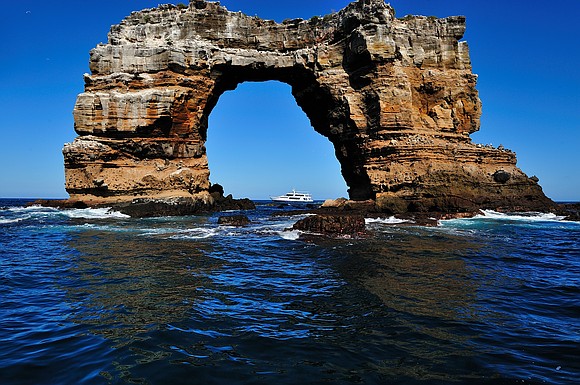 Timing is everything. Knowing when to go to a destination is no small matter. You can pay more or less simply based on when you travel. You might also want to travel around the time of a certain event in your desired destination. October is great time to hit the road. Not only might hotels be less expensive, places less crowded, but there are likely special festivities to make it harder for you to stay home.
Here are a few destinations when October is an ideal time to visit.
Baltra Island, Galapagos, Ecuador
Galapagos is one of the most exciting destinations in the world. It's better still in October, the peak whale shark season.  The Aggressor Adventures' Galapagos trip departs Baltra every Thursday afternoon. You can travel to the Darwin and Wolf Islands for heart thumping diving. You're likely to see Hammerhead sharks, whale sharks, clouds of tuna and much more on their Galapagos Islands live aboard scuba diving trip. The scenic view of the Darwin Arch is picturesque. A maximum of four dives will be offered daily; two in the morning and two in the afternoon. In addition, two nighttime dives, and two land excursions per week will be offered. The new diving areas added to the itinerary include Bartolome Punta, Cousins Rock and Cabo Douglas.
Austin, Texas
You know they do things big in Texas. October is chock full of happenings. The biggie is the Austin Film Festival & Writers Conference, Oct. 24-31. For eight days downtown Austin is all about the festival at locales like the Paramount Theatre, Driskill Hotel and others. There are more than 150 panels on the art and craft of storytelling, with a who's who in television, film and new media, sharing their knowledge. Oct. 26 is Viva la Vida Festival & Parade, the city's largest and long-running Day of the Dead Festival. For two weeks, Oct. 4-6 and 11-13, there's the ACL Music Festival in Ziker Park. Check out artists like Guns and Roses and Childish Gambino. Because the weather is still so warm you can swim in Barton Springs, Austin's popular pool, and when hungry know that the food trucks are still out in full force.
Berlin, Germany
Berlin is a bustling city, known for its nightlife, beer and food. From Oct. 11-20, the star attraction is the Festival of Lights which takes place at 100 locations across the city. The festival is essentially an open-air gallery. The most iconic landmarks, buildings and squares will be ablaze with sensational projections, magical 3D-videoshows and breathtaking light installations related to this year's theme "Lights of Freedom." On the occasion of the "30th anniversary of the fall of the Berlin Wall" the city will transform into a colossal stage and tell touching stories: expressive, emotional, amusing, surprising and unexpected.
Florida's Space Coast
October is ideal to make your way to Florida's Space Coast, because it's cooler, cheaper and without the crowds. Take advantage of experiences and educational adventures you can't get anywhere else in the world. Take for example, Cocoa Beach. Make like a kid catching the waves, take walks on the beach and enjoy waterfront dining, shopping and live entertainment. If fishing is your thing, you might do nothing more than cast your reel in those abundant waters. You can up your kayak experience by going out in a clear-bottomed kayak over bioluminescent lagoons. If you prefer land adventures, ride bikes, hike the Maritime Hammock preserve trails, or watch nature in action as you see the birth of baby sea turtles during a Sea Turtle Walk with the Sea turtle Preservation Society. Feed a giraffe or go on a rhino encounter at the Brevard Zoo. There's a Florida Surfing Museum and if you're so inspired you can learn to surf as well. Who wouldn't enjoy a day at Kennedy Space Center? Along with learning activities like watching a real-life rocket launch, you can have lunch with an astronaut and more.