ComicCon 2019: The best as always!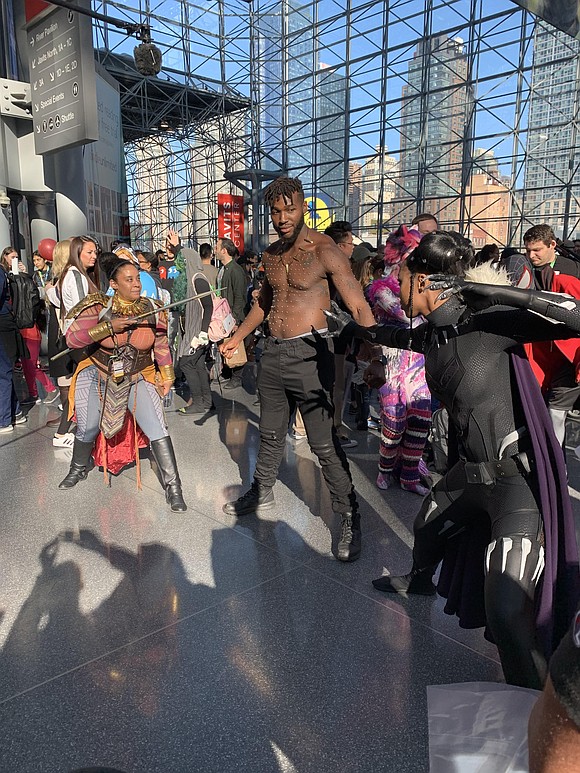 Every year my two daughters and I look ridiculously forward to New York ComicCon, and New York ComicCon 2019 was absolutely phenomenal at the Jacob Javits Convention Center on 11th Avenue by 34th Street. From the time that you entered the Jacob Javits Center you knew that you were in for a fabulous time; there were so many eye-catching displays for TV shows, comics and series that are currently on the air and things that are coming up, such as "Watchmen," a new HBO series premiering Oct. 20, and a screening for the second season of "Castle Rock" from Hulu. There were screenings for several CW shows including a new series "Bat Woman," season 4 of "Riverdale," and season 2 of "Roswell." ComicCon 2019 had it all! There were panels, autograph signings, opportunities to play the latest video games, chances to get all types of comic related and TV series related merchandise from shirts to costumes to hats and jewelry. This was a place for comic book, sci-fi, superhero and comedy series lovers and all of us who realize that we are kids at heart, a four-day dream in which you wanted time to stand still!
There were interactive booths and chances to take photos with props from various NBC TV shows such as "The Office," "The Good Place" and "Superstore." There were so many people dressed in elaborate costumes who were waiting and willing to take a photo. ComicCon is a cherished event and it should always continue! The environment is so family friendly and everyone is just there having a great time. It is for people of every age range and believe me entire families completely get into it, as you see everyone in costume—even children in strollers get their ComicCon—On!
ComicCon 2019 was also a place to say farewell to shows which are not coming back, like one of my daughter Jasmine's favorites, "Steven Universe." A panel was held where they focused on the "Steven Universe" movie and did live performances singing, "Happily Ever After," "Other Friends" and "True Kinda Love." The hour-long panel was filled with music, smiles, tears and laughter. Rebecca Sugar, along with some of the cast of "Steven Universe," took the audience through their process of making the movie and how everything came together. They had a Q&A with fans and revealed there will be no sixth season. But they won't leave fans wondering why or how. They are coming to Cartoon Network for one last hooray by introducing everyone to the "Steven Universe Epilogue Limited Series" to show what all the characters are now up to and how their lives are.
DC Nation had a panel in which the comic writers and creators talked about the newest comic books and the 80th anniversary of DC Nation. "Spongebob Squarepants" celebrated its 20th year! Cast members who voice Patrick, Plankton, Mr. Crab and Sandy did a 15 minute Q&A. They talked about the recent "Birthday Bash" episode that they had for Spongebob and upcoming episodes.