Exercise—key to avoiding heart disease, diabetes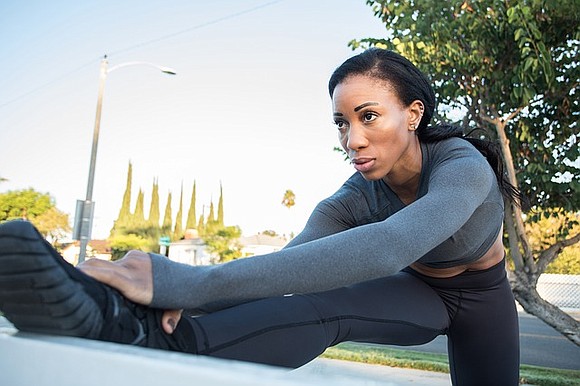 Exercise is an important key to avoiding both cardiovascular disease and diabetes. According to a study reported in the Journal of the American Medical Association, women who are able to perform physical activities, such as climbing a flight of stairs or running a short distance, are at lower risk of heart problems, even if those women are overweight. The study showed that "the lack of physical fitness is a stronger risk factor for developing heart disease than being overweight or obese."
Known as the Women's Ischemia Syndrome Evaluation (WISE), the study was conducted by a physician and colleagues at the University of Florida College of Medicine, Gainesville, along with researchers from five other institutions, including the National Institutes of Health. Women reporting higher levels of physical fitness had fewer coronary artery disease risk factors, less CAD and a lower risk for CV events.
Important in risk management
The researchers reviewed questionnaires completed by more than 900 women with symptoms of heart problems. The women were also given complete physicals and medical tests to determine their heart health, including measures of body mass index (BMI), waist circumference, waist-hip ratio, waist-height ratio and physical fitness. "We found that many women who would be classified as obese, based upon their body mass index and these other measures, were actually able to perform a lot of these day-to-day activities which our questionnaires judged to be physically fit," the lead physician researcher said.
During follow-up, which averaged 3.9 years, 38% experienced an adverse coronary event for the first time, 13% had a major adverse event, and 8% died. Overweight women were more likely than normal-weight women to have risk factors for CAD, but neither BMI nor abdominal obesity measures were significantly associated with obstructive CAD or adverse CV events after adjusting for other risk factors. Conversely, women with lower physical activity scores were significantly more likely to have CAD risk factors and obstructive CAD at the start of the study, and each incremental increase in their energy expenditure score was associated with an 8% decrease in risk of major adverse CV events during follow-up.
"These results suggest that fitness may be more important than overweight or obesity for CV risk in women. Evaluation of physical activity and functional capacity using simple questionnaires should be an integral part of CV risk stratification, and interventions aimed at increasing physical fitness levels should be included in the management of all women at risk for coronary heart disease," the authors conclude.
Weight is bigger risk factor for diabetes
A separate study reported in the same issue of JAMA investigated the combined relationship of BMI and physical activity with diabetes, to understand whether increasing physical activity levels reduces the elevated risk of diabetes from obesity. Researchers from Brigham and Women's Hospital in Boston reviewed data from 37,878 participants in the ongoing Women's Health Study. The participants were free of CV disease, cancer and diabetes at the beginning of the study; and follow-up averaged about seven years.
The study found a modest reduction in the risk for diabetes with increasing physical activity level, compared to a large increase in the risk with increasing BMI. Compared with normal-weight individuals, overweight individuals had a 3.2 times increased risk for diabetes, and obese individuals had a 9.1 times increased risk. Compared to the least physically active women, other women in the study had a decreased risk of diabetes ranging from 9% to 18%. "Our study suggests that to further reduce the risk of diabetes with physical activity, it should be performed in conjunction with achieving weight loss," the authors concluded.
Putting studies in perspective
An editorial accompanying the articles notes that while one study suggests that increased BMI is substantially more important for incident diabetes, the other suggests that inactivity or low fitness is a greater threat to health in terms of CV outcomes. "In recent years, the fitness versus fatness issue has led to controversy and heated debate," the editorial notes. "Although the debate may never be fully resolved, the relative contribution of fitness and obesity to overall health and risk actually may be a trivial matter because a common treatment is already available for both low fitness and excess body weight. Increasing regular physical activity results in predictable increases in fitness, and it is widely accepted that regular physical activity is a core component of successful weight loss programs and, more importantly, of long-term weight loss maintenance."