Hargrove tribute, Ginny's, Lovano Appel Room, Taylor Made
Ron Scott | 10/17/2019, 11:31 a.m.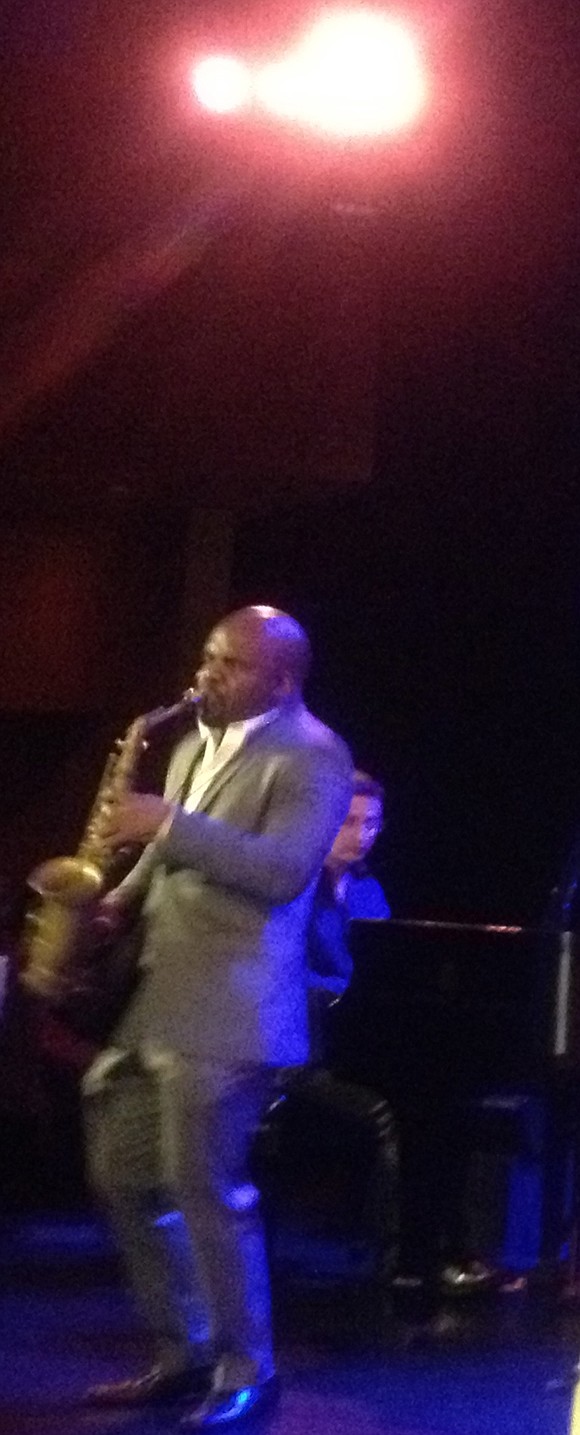 When one mentions great trumpeters in jazz history like Louis Armstrong, Miles Davis, Clifford Brown and Freddie Hubbard, the name of Roy Hargrove must be included. He was the best trumpeter of his generation, as well as the most influential.
On Oct. 16—what would have been Hargrove's 50th birthday—there will be a "special birthday jam session" for the composer, vocalist and big band leader, at The Jazz Gallery (1160 Broadway) from 9 p.m.-2 a.m. The evening will open with a concert by Jaleel Shaw Group featuring pianist Julius Rodriguez, bassist Ameen Saleem, drummer TBA, and Shaw on alto saxophone playing Hargrove's music along with special guests. Following the performance Shaw will open the floor for a jam session.
Hargrove founded The Jazz Gallery along with Dale Fitzgerald and Lezlie Harrison, in 1995 in the loft space at 290 Hudson Street which Hargrove and Fitzgerald had leased in 1992. The second floor of 290 Hudson Street was The Jazz Gallery's home until they moved to 1160 Broadway in 2012. Hargrove passed on Nov. 2, 2018. "Roy's spirit and profound musicality had a deep and continuing impact on all we did and will continue to do at The Jazz Gallery," stated Hank O'Neal, chairman of the board of directors.
Tickets are $25/$10 members; reserved table seating $35/$20 members and $10 for musicians with an instrument. For more information visit the website info@jazzgallery.org.
Also now through December "The Jazz Gallery Remembering Roy A Tribute Exhibition" to the TJG co-founder. Many memorable never seen before photographs of Hargrove line the walls of TJG. Photographers featured are Hank O'Neal, Jonathan Chimene, Jimmy Katz, William Brown, Mike Shur, Nina D'Alessandro and Jean-Jacques Abadie.
On Oct. 19, alto saxophonist/composer Jaleel Shaw returns to The Jazz Gallery with his group Jaleel Shaw 4TET featuring guitarist Lage Lund, bassist Rashaawn Carter and drummer Justin Brown. Like his Philadelphia homeboys (Benny Golson, Bobby Timmons, Sonny Fortune and transplant John Coltrane), Shaw follows his own musical path as he stays true to the tradition of jazz while still exploring his own narrative that ranges from fiery touching ballads to balling riffs that drift into the periphery beyond mere jazz. Shaw earned his reputation as a long-standing member of Roy Haynes' exciting Fountain of Youth band for which he still plays.
There are two sets at 7.30 p.m. and 9.30 p.m. For tickets visit the website info@jazzgallery.org.
Ginny's Supper Club (310 Lenox Avenue) located on Harlem's main thoroughfare on 125th Street may be the premiere jazz venue in the community. For this autumn weekend beginning on Oct. 17, the club will bring a varied taste of jazz for consumption with the SuperTone Brass Band bringing their funky New Orleans grooves for a night of big easy throw down. The band began its journey in 2002 in a Brooklyn basement and has been soaring since.
On Oct. 18 Ginny's welcomes Christopher McBride & The Whole Proof whose repertoire covers terrain from the African diaspora to R&B, and Latin Music with a truth for the straight-ahead swing. Since 2007 the saxophonist and composer McBride has played in a variety of diverse groups that include Winard Harper, Roy Hargrove, Lupe Fiasco, Solange, Jason Marshall and Bobby Broom.
On Oct. 19, Ginny's welcomes a member of their musical family Harlem's globe-flying vocalist, guitarist and composer Allan Harris. The native New Yorker arrives on the heels of his newly released CD "Nobody's Gonna Love You Better" (Black Bar Jukebox Redux ), Love Production Records, the album is a follow-up to his 2015 release Black Bar Jukebox, and provides the same eclectic mix of covers and original material. It features four Harris originals, a couple of American Songbook gems, a pair of jazz classics, and re-imaginations of hit songs from Jimi Hendrix, Steely Dan and Spiral Staircase.
Back from the previous album are the GRAMMY Award-winning producer Brian Bacchus and Harris' longtime keyboard cohort Pascal Le Boeuf (on acoustic and electric pianos, and Hammond B3 organ). Joining Pascal in the rhythm section are Russell Hall on acoustic and electric bass, Shirazette Tinnin on drums and cajón, and Freddie Bryant on both electric and classical guitar.
Harris' repertoire can range from the deep velvet tones of Nat King Cole, Billy Eckstine or the grainy hip verses of Eddie Jefferson. With 11 albums in his career he has much to choose from that will surely represent gems from this latest CD.
"There is nothing that I have found that defines and gives credence to my place in this wild and mysterious universe than this thing called music," said Harris.
Shows run from 8 p.m. to 10 p.m. for information call 212-421-3821 or visit info@ginnyssupperclub.com.
The tenor saxophonist Joe Lovano is one of the traditional cats, who consistently looks to broaden the scope of the music as he did in 2008 by forming the quintet Us Five with Esperanza Spalding on bass, pianist James Weidman and two drummers, Francisco Mela and Otis Brown III. "Folk Art" (Blue Note, 2009) was an album of compositions by Lovano that infused the spirit of avant-garde; and loft jazz of the 1960s.
On Oct. 18-19 the saxophonist Lovano brings in his band the Universal Jazz Ensemble, a most creative collaborative force consisting of six different jazz artists, each of them also a renowned composer, bandleader and instrumentalist.As in 2008 he brings together two dynamic drummers, who effortlessly cross over from traditional to avant garde; they are Andrew Cyrille and Tyshawn Sorey along with pianist Kenny Werner, bassist John Patitucci, guitarist Liberty Ellman, trumpeter Graham Haynes and vocalist Judi Silvano.
They will perform two shows each night at 7 p.m. and 9:30 p.m. in the Appel Room (Jazz at Lincoln Center, 60th Street and Broadway). For tickets visit the website jazz.org.
As the summer sun sets earlier and the autumn winds force jazz lovers indoors many will begin the indoor season in Queens as Jazzmobile @55 presents Taylor Made: Dr. Billy Taylor at Flushing Town Hall (137-35 Northern Blvd.) on Oct. 19, at 7 p.m.
The music director of the evening will be drummer Winard Harper, with special guest NEA Jazz Master Jimmy Owens. A host of established and emerging artists will take to the stage in celebration of NEA Jazz Master Dr. Billy Taylor and his living legacy, Jazzmobile, as it celebrates 55 years of presenting, preserving and promoting America's classical music, jazz.
Performers will include pianist Norman Simmons, trumpeter Teddy Chubb, saxophonist Cleave Guyton, bassist Ian Kenslaar, Harper's Jeli Posse, vocalist Kameelah Harper, and special guest vocalists Vanessa Rubin and Charenee Wade, and former member of the (last) Billy Taylor Trio, bassist Chip Jackson.
This concert is followed by a conversation with the artists.
Tickets are $20/$15 Members/$10 Students/ FREE for Teens. For more information visit the website flushingtownhall.org.