Reel Sisters honors pioneering cultural icon/activist/author Nana Camille Yarbrough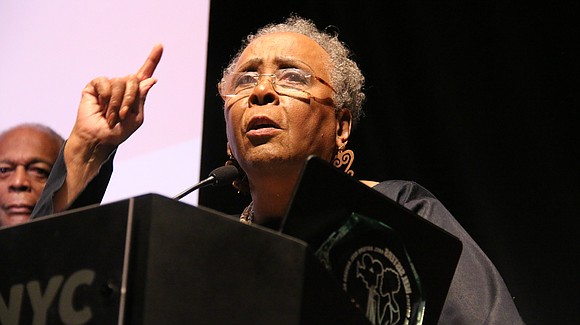 On Friday, Oct. 11, 2019, Reel Sisters of the Diaspora Film Festival & Lecture Series honored award-winning performance artist, author and cultural activist Camille Yarbrough with their distinguished Reel Sisters Hattie McDaniel Award for her outstanding contributions to film, television, literature and performing arts over six decades. The Reel Sisters Trailblazer Award was presented to Sandra Guzmán, producer and lead interviewer of "Toni Morrison: Pieces I Am," and pioneering filmmaker Leslie Harris, director of the classic film "Just Another Girl on the I.R.T." Oscar nominated actress Rosie Perez presented Guzmán with the Trailblazer Award. April Silver, founder of Akila Worksongs, and Radio Personality Bob Law presented the Hattie Award to Yarbrough. Reel Sisters celebrated the evening with a screening of "Toni Morrison: Pieces I Am." Following the film, Malaika Adero, former VP/senior editor of Atria (Simon & Schuster), moderated a conversation with Sandra Guzmán and artist/scholar/cultural worker OlaRonke Akinmowo, founder of The Free Black Women's Library.
Award-winning producer/actress Andrea Lewis ("Degrassi: The Next Generation"), our 2019 festival curator, served as their esteemed mistress of ceremonies for an exciting evening of fun, film
and networking.
"We are proud to honor our sheroe Nana Camille Yarbrough with Sandra Guzmán and Leslie Harris for their compassionate leadership in paving the way for women in the arts and film world," said Reel Sisters founder Carolyn A. Butts. "Reel Sisters' theme for 2019 is #IGotYourBack and our honorees are women whose careers are founded on giving back and helping other artists and organizations in our community. We hope their lives will continue inspiring philanthropy and
collective progress."