Community outraged after white ArtShack Brooklyn owner displays racist images in Clinton Hill
By Cyril Josh Barker Amsterdam News Staff and Nayaba Arinde Amsterdam News Editor | 10/23/2019, 11:16 a.m.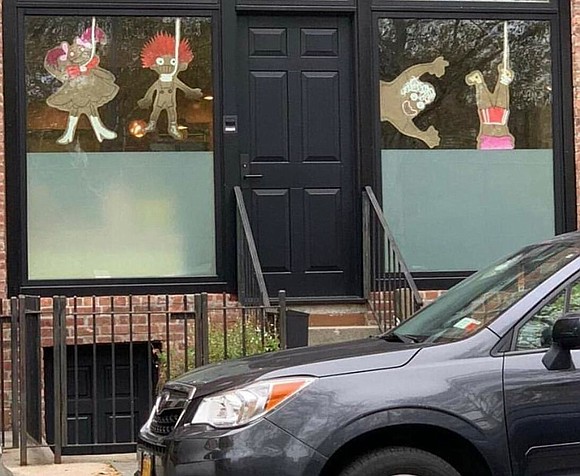 It seems like the racially insensitive, white privileged newish residents to Black communities keep needing to learn the same lesson.
The racist images are gone, but protests are planned as the community still has questions after ArtShackBrooklyn owner Dany Rose, who is white, displayed what appeared to be hanging Black children in the front windows of her Waverly Avenue home in Brooklyn.
The four brown figures were stuck to large windows possibly deemed to be Halloween decorations. Two of them appeared to have nooses around their necks with another hanging upside-down with a rope tied on its bottom leg.
Photos of the figures were posted and went viral on social media. Parents of children who attend school at P.S. 11, which is near the home, are upset. The parents said the display was racist and not culturally sensitive to the predominantly Black neighborhood.
In July 2017, Toronto tax attorney Becca Brennan eventually had to shut down her Summerhill cafe/bar when protesting Black folk told her repeatedly that her supposedly artistic bullet-riddled wall was offensive. The persistent community action led to the closure of the location.
Dany Rose resigns
ArtShack Brooklyn co-owner Dany Rose sent her letter of resignation from the organization on Friday. In a letter to the Board of Directors posted to Facebook, Rose said, "This organization has strong roots, and I look forward watching it grow and thrive in the future."
President and founder of The Arc of Justice the Rev. Kirsten John Foy stated, "This disgusting and reprehensible act of violence targeting the children, families and community of PS 11, including my own, in the name of art will not stand! The PS11 family which includes The Arc of Justice will be holding a rally on Thursday, October 24, at 5 p.m. in front of 384 Waverly Place (across the street from PS 11) to announce that we are launching an educational campaign and boycott of the ArtShack at all of their locations. The lynching of Black people in America is a historical symbol of genocide, and to celebrate these images for Halloween and target an elementary school with this violence is inhuman, and criminal. We will be asking the district attorney to initiate an immediate investigation to determine the extent to which a crime may have been committed. This was an intentional and flagrant act of political violence against almost 1,000 students, their families and our community and will be met with a robust and persistent campaign of resistance."
The angry outpouring continued, and Amsterdam News readers contacted the paper to say that they would participate in the active demands for redress.
"It is disturbing and disrespectful for anyone to think that racism will ever be accepted by us or by our communities," said Anthony Beckford, Black Lives Matter Brooklyn president. "The location located at 384 Waverly Avenue is owned by Dany Rose, who owns the nonprofit, ArtShack Brooklyn, which is located at 1131 Bedford Avenue. The artwork which was handmade clearly shows the depiction of Black children being hung with nooses around their necks. This is clearly a celebratory imagery of lynching. This is directly across the street from Public School 11, which is a predominantly Black school. The community itself is predominantly Black and is being targeted for more gentrification. Gentrification in itself promotes and enables racism, but we will not stand for it."