Politicos slam Trump's terming the impeachment inquiry a 'lynching'
HERB BOYD Special to the AmNews additional reporting, NAYABA ARINDE Amsterdam News Editor | 10/24/2019, 10:30 a.m.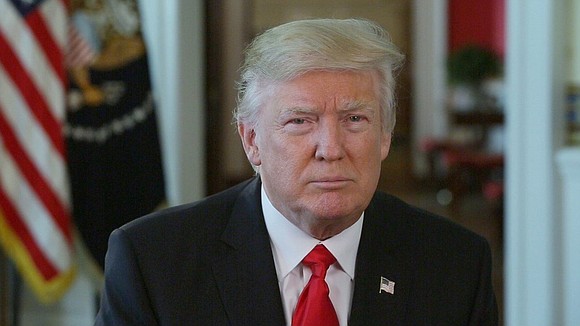 As the presidential impeachment inquiry gains momentum—with key witnesses being subpoenaed and appearing before House investigators—Trump continues to denounce it. Most recently he referred to it as a "lynching," which goes beyond his usual "witch hunt" designation.
Calling it a "lynching" has infuriated a number of African Americans and even Republican Sen. Kevin McCarthy, an ardent Trump supporter. "That's not the language I would use," said McCarthy, the House Minority Leader from California. "I don't agree with the language.  It's pretty simple."
"You think this impeachment is a LYNCHING? What the hell is wrong with you?" said Rep. Bobby L. Rush (D-Ill.) in a tweet. "Do you know how many people who look like me have been lynched, since the inception of this country, by people who look like you. Delete this tweet."
Rep. Karen Bass (D-Calif.), chair of the Congressional Black Caucus, was more alarmed by Trump's comparing the impeachment inquiry to a lynching in two tweets. "You are comparing a constitutional process to the PREVALENT and SYSTEMATIC brutal torture of people in THIS COUNTRY that looked like me?" she asked.
In her second tweet Bass wrote, "Every time your back is up against the wall, you throw out these racial bombs," she said. "We're not taking the bait.  While we CONTINUE our business here in D.C., why don't you take a trip to the @MemPeaceJustice in Alabama and LEARN
SOMETHING."
Her suggestion that he pay a visit to the National Memorial for Peace and Justice, which is dedicated to the legacy of enslaved African Americans terrorized by lynch mobs, will probably be met with yet another outrageous rejoinder, much like the one voiced by Sen. Lindsey Graham (R-S.C.), who, as expected, vehemently came to the defense of Trump's comments.
The senator from South Carolina agreed with Trump, indicating, "this is a lynching in every sense," he said. "This is un-American. I've never seen a situation in my lifetime as a lawyer where somebody's accused of major misconduct who cannot confront the accuser, call witnesses on their behalf and have the discussion in the light of day so the public can judge."
Graham, referring to the testimony being conducted behind closed doors, was the impeachment manager during the Senate trial in 1998 of President Bill Clinton.
Posting graphic pictures of an actual lynching on his Twitter account, former Republican National Committee chairman Michael Steele slammed Trump and Graham. Steele tweeted: "@realDonaldTrump and @LindseyGrahamSC this is a lynching...Trump this is not happening to you and it's pathetic that you act like you're such a victim; but it did happen to 147 Black people in your state Lindsey. 'A lynching in every sense'? You should know better."
In a CNN interview House Majority Whip James E. Clyburn (D-S.C.) condemned the 45th president's use of the historically devastating word, saying, "That is one word that no president ought to apply to himself."