Activists demand investigation in cop/youth subway melee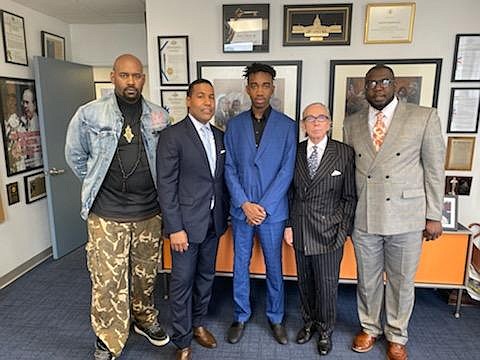 "I am calling on Brooklyn District Attorney Eric Gonzalez to do the right thing and drop all charges against 15-year-old Marshall and the remaining teens," demanded Anthony Beckford, president of Black Lives Matter Brooklyn. "He needs to also charge the officer who maliciously and brutally attacked 15-year-old Benjamin Marshall. There must be accountability and justice."
Seeing a bunch of high school students rumbling with NYPD cops in a Downtown Brooklyn subway station was bad enough on Friday, Oct. 25, 2019, but then to witness on video (or live even) an officer walk up and punch a teen full in the face really sent shockwaves throughout the city. Seemingly the same officer can also be seen reportedly punching a second youth.
A group of teens were reportedly fighting on the platform at Jay Street-MetroTech subway station. Police were called, and the brawling commenced. It was caught on cell phone video, and it went viral. Jay Street-MetroTech subway station is always busy, night or day. On that Friday, it was packed, plus school had let out, plus folks were heading home.
It was complete chaos. Only matched by a week of outrage culminating by press time with the teen appearing in court on unofficial charges, the officer taken off the street, and a $5 million lawsuit being levied against the city.
Even veteran cop-turned-politician and current Brooklyn Borough President Eric Adams determined that police are supposed to de-escalate a situation, not heighten the tension and level of violence.
"The incident that took place at Jay Street-MetroTech needs to be a teachable moment for the NYPD,"Adams stated. "What the video shows is that while the officers were trying to de-escalate the situation, one officer chose to escalate, punching three separate people. I called for the city to immediately call for him to be placed on modified assignment. I commend the NYPD for reassigning the officer pending further investigation. I have stayed in contact with the families and representatives of the young people involved to ensure justice is done."
As for this and the call for D.A. Gonzales to get involved, Oren Yaniv, Brooklyn D.A. director of Communications, said, "Mr. Marshall is 15 so any charges against him would be handled in Family Court, where the D.A. has no jurisdiction [those cases are handled by the Law Department]. The incident itself is being reviewed by our office."
"We are demanding that there are no charges brought against my client, and an independent investigation by the D.A.'s office," attorney Sandford Rubenstein stated.
Meanwhile, Marshall's family announced that they are suing the city for $5 million. Rubenstein said that there were no official charges, but after the court appearance on Wednesday morning, the date was adjourned until Friday.
Police Commissioner James O'Neill said on Wednesday, "It looks like there is pending litigation so I'm not going too deep into it. But as a transit cop, the NYC subway is an inherently unsafe place. You have trains coming in and out of the station. You have a third rail. Any violence on a subway platform is especially dangerous. People have a responsibility, a duty, to comply with the police. If there is a fight, and it happens with young kids, I understand that. But when police come, they need to stop. And they will be safe. The matter is under investigation. The officer involved is on non-enforcement duty. But first and foremost, there shouldn't be any fighting on subway platforms, especially by teenagers, because it is in an inherently unsafe place."