Activists unite for 'Day of Outrage'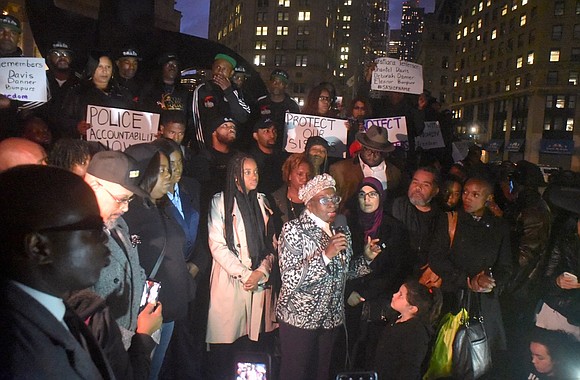 With stories of police violence littering the media landscape, activists and victim's families have had enough. They took their outrage nationwide and are clamoring for an end to aggressive policing of Black and Brown bodies.
On Monday, Oct. 28, people across 15 different cities stood in solidarity for all Black women whose lives were taken by law enforcement. The spark for the rally was ignited after the killing of Forth Worth, TX resident Atatiana Jefferson in her own home (police were responding to a request for welfare check on Jefferson). Jefferson was playing video games with her nephew when an officer fired shots through the window striking her.
In New York City, activists and elected officials took to Foley Square to show their outrage, demand justice for Jefferson and bring attention to police-involved shootings. Public Advocate Jumaane Williams told the crowd that enjoying family time can now be dangerous if you're Black.
"Outrage is telling us now you can't even be a Black woman playing video games in your house with your nephew," said Williams to the several hundred in attendance. "This is a day of reckoning we are outraged this happened in our cities and our country and we are raising our voices like never before."
"She was at home making memories with my nephew," added Ashley Carr, Jefferson's sister, who attended the Foley Square rally. "Things that she would love to do and got killed in the process for no apparent reason. It's so unimaginable how this could happen to you."
Tamika D. Mallory, founder of Until Freedom and one of the organizers of the rally, said Jefferson's killing in the immediate aftermath of a former officer going to jail for killing an unarmed Black man in his own home emphasized the need for push back against police violence.
"It is absolutely outrageous to consider that less than one week after Officer Amber Guyger was found guilty of murdering Botham Jean in his home in Dallas that another Texas police officer could fire with impunity into the home of another innocent Black person," said Malory in a statement to the AmNews. "We demand answers, but more importantly, we demand change. We will not allow Black people to continue to be preyed upon by those committed to protecting and serving them."
Guyger was recently sentenced to 10 years in prison for shooting and killing Botham Jean in his own apartment. The former officer alleged that she thought it was her apartment (Guyger and Jean lived in the same apartment complex, but on different floors) and that Jean had broken in.
Alissa Finley, Jean's older sister, said that justice being served in court couldn't heal the wounds that her brother's death brought.
"This is difficult, I miss my brother every day even when the murder conviction was read, my first thought was I want him back," said Finley to attendees.
Jefferson was the first person in her family to graduate high school, graduated with a biology degree at Xavier University in Louisiana and had just moved back to her mother's house to take care of her. Jean was an accountant and a member of a church choir. Their backgrounds, however, couldn't shield them from police violence.