Good vibrations abound for Columbia women's basketball
LOIS ELFMAN | 10/31/2019, 1:34 p.m.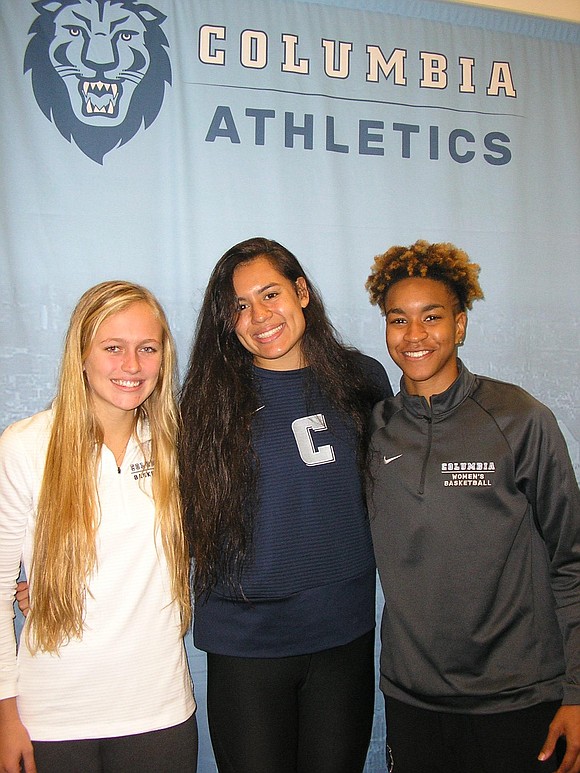 This is head coach Megan Griffith's fourth season at the helm of Columbia University's women's basketball team. Except for one transfer, the returning players have played under her system throughout their collegiate careers, and they feel a strong sense of purpose.
"Every year, you hope you get more talent and you get players who are going to contribute," said Griffith. In addition to a transfer student, junior forward Kallin Spiller, there are three strong freshmen joining the Columbia Lions. "I feel very excited to coach them."
The team will play a very strong non-conference schedule, including such formidable opponents as Fordham, Army, Georgetown and Vanderbilt. "You've got to build a schedule that's going to challenge you," said Griffith. "You have to stay focused on every single game."
Each season, Griffith has tried to bring new elements to the team and increase the winning mentality. An important detail this season is that not only are the players accountable to the coaching staff, but they are also stepping up in terms of holding each other accountable.
During the off-season, the returning players all worked on improving their games. Sophomore guard/forward Sienna Durr is coming off a stellar freshman season in which she was named Ivy League Rookie of the Year and Second Team All-Ivy. Durr has worked on her defense, ball-handling and shooting.
Junior guard Riley Casey and senior guard Janiya Clemmons are the team's co-captains. "We've been working really hard for three years now," said Clemmons. "It's my last year, so I'm really hoping that all we've been building, I can actually be present and be a part of that tipping point."
She added, "I do think we have all the pieces to the puzzle. I'm in a position to continue to grow as a leader and lead my team to those victories."
A computer science major, Clemmons did an internship at Citibank this past summer doing software development. Her background as an athlete in a team sport helped her excel.
"First off, being able to work under pressure was very important," said Clemmons. "Especially with an internship, every day you want to show up and put your best foot forward. Doing software development, you have to solve these complex problems and it's stressful. Being able to manage my time and deal with the stress, it definitely came from me being in that situation all the time. Also, being able to work within a team. You have to utilize the people around you, pick their brains. It's teamwork. That's something I got from basketball."