Heavy traffic? Street closures? Thousands of runners? It's time for the NYC Marathon
VINCENT DAVIS | 10/31/2019, 1:33 p.m.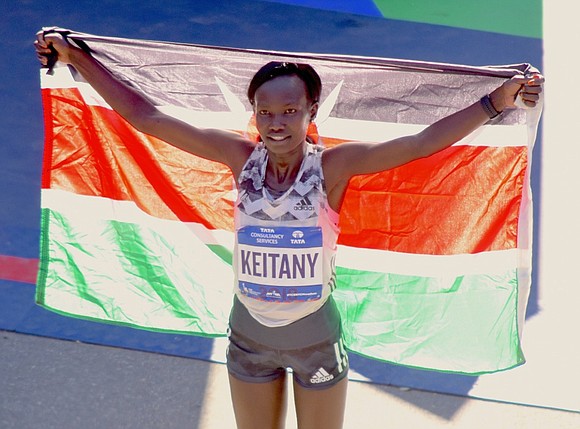 A record number of runners, 52,814 crossed the TCS New York City Marathon finish line last year, and they're expecting to match that and more on Sunday as participants compete in the world's largest marathon that takes place in this city's five boroughs.
The race, the 49th, held annually on the first Sunday of every November, includes the world's top professional athletes to runners of all ages and abilities. Participants represent over 125 countries.
Starting in Staten Island, runners travel through the city in their most comfortable and durable foot wear, 26.2 miles through the Island then Brooklyn, then Queens, the Bronx and Manhattan neighborhoods to get to the finish line in Central Park. At least ten thousand volunteers assist runners through the marathon's course.
Last year's marathon featured one of their most exciting races. Kenyan Mary Keitany regained her reign in the woman's division after losing it by 61 seconds to the U.S.'s Shalane Flanagan in 2017.
Flanagan, from Oregon, finished third in last year's race. Until 2017, Keitany had won three consecutive titles; in 2014, 2015 and 2016.
Lelisa Desisa, from Ethiopia, won the men's division. The men's wheelchair division was won by Daniel Romanchuk, the women's division was won by Manuela Schar. Hand cyclist winners were Fabio Faborges in the men's, and Devann Murphy taking the women's. Defending champions will be competing on Sunday.
Throughout the week, the NYC Marathon have featured events that hilight their participants and champions. The official Blue Line Painting Ceremony took place at Central Park, West 67th Street yesterday. There have been several playground dedications this week. One in Staten Island, the other in the Bronx.
A runners Expo takes place today, Thursday at the Jacob Javitts Convention Center in midtown Manhattan. The Expo is the hub for all runners participating. Visitors can shop and check out the latest running, health and wellness products and services. It's free for the public.