Johannesburg Joy of Jazz Festival
Ron Scott | 10/31/2019, 11:58 a.m.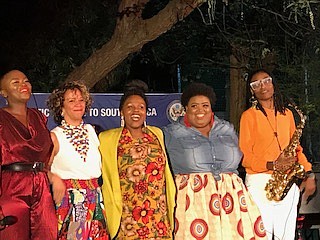 The recent 22nd annual Joy of Jazz Festival held in Johannesburg, South Africa was an extended industrious program that began in New York City at Jazz at Lincoln Center's Rose Hall "South African Songbook Celebrating 25 Years of Democracy" (Sept. 12-14) which was the beginning bridge construction between South African music and American jazz. It brought together a host of exceptional South African musicians playing with Wynton Marsalis and the Jazz at Lincoln Center Orchestra.
A welcoming celebration kicked off the festival at the South African Embassy Consulate General Michael A. McCarthy's residence. During the gala Marsalis noted, "The struggle for civil rights is not over; JALC coming here means we have a ground that we must nurture coming together with other people with love and intensity." A host of JALCO members were present along with many South African musicians, jazz enthusiasts and the like. The surprise of the evening was a sneak preview of the festival's upcoming performances by the all-female band Jazz Unity featuring South African musicians, pianist/vocalist Nomfundo Xaluva, bassist/vocalist Tebugo Sedumedi, guitarist/vocalist Zoe Masuku, saxophonist Lakecia Benjamin and drummer LeFrae Sci. Their rendition of Ornette Coleman's "Lonely Woman" was outstanding. "I had to come here to experience and learn some of the culture I lost," said Benjamin.



In Johannesburg (Sept. 26-28) the festival's theme was based more on the culmination of South African and American jazz musicians coming together as one growing root with different branches. "We speak a common language but the timbre is different," noted Marsalis. "We must come together with power and create the change we want to see." The opening public discussion at the historic Market Theatre included such panelists as SA vocalist Gloria Bosman, JALCO saxophonist Camille Thurman, Artistic Director of JALC Marsalis, JALC Education Director Seton Hawkins, and SA pianist Nduduzo Makhathini. "The earlier years were a beacon for South Africa as performing artists—American show business inspired us," said Bosman. "We took it and built up our own style of African jazz like Hugh Masekela, Miriam Makeba and Abdullah Ibrahim."
Opening night was a historical evening in jazz as the festival was packed in anticipation of Marsalis and the Jazz at Lincoln Center Orchestra sharing the festival's largest stage (Dinaledi) with Marcus Wyatt ZAR Jazz Orchestra.
The audience was much more verbal, shouting, clapping and swinging than their New York City counterparts, who witnessed a few of the same South African composition arrangements by members of JALCO. This audience was familiar with every tune. These were standards written by their jazz heroes like "Lulu in Adderley Street" by Feya Faku (arranged by Sherman Irby), "Ithemba" by Nduduzo Makhathini (arranged by Victor Goines), and "Send Me" by Hugh Masekela (arranged by Marcus Printup). "The audience knew the music and responded by dancing," said JALCO saxophonist Camille Thurman. "They loved our interpretation of their music and they are not afraid to be a part of the music." Their most blistering composition was a tribute to their road manager Raymond "Boss" Murphy.
On the other side of the stage trumpeter Marcus Wyatt and ZAR were slamming. They didn't have the precision comparable to JALCO but they had the art of swinging in a Cape Town progressive way that kept participants on their feet. It was young band members like pianist Bokani Dyer, saxophonist, pianist and vocalist Mark Fransman (performing all three with effortless precision), and lead vocalist Mihi Matshingana was the orchestra's captivating charm. Wyatt, like Marsalis, had double duty as leader and trumpeter but he pulled it off although he says he was rather nervous playing in front of Marsalis and the New York cats but that quickly wore off and throwing became his prerequisite .