Naomie Harris stars in 'Black and Blue'
LAPACAZO SANDOVAL | 10/31/2019, 11:45 a.m.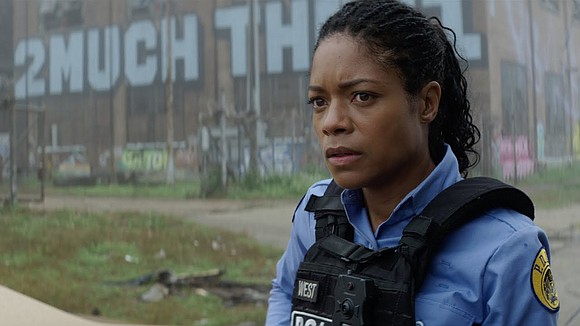 I wanted to like "Black and Blue" because the subject matter—about police corruption and racism—is sadly timely. And because the lead is a Black woman (Naomie Harris). But I didn't like it.
The story has a solid start. We meet Alicia West (Naomie Harris) who is a runner. We follow her route through the middle-class streets of a typical suburban neighborhood in New Orleans. She's minding her business—running—until she is being harassed by a pair of white cops who begin interrogating her with excessive force for no reason.
See why I wanted to like this film? It's real. In short order, she makes it clear that she's a police officer a member of "the blue" and they let her go but not without showing their sincere feelings about her race. They walk with the arrogant confidence that they will face zero consequences, you feel me? Another reason that I wanted to like this film. What happened to her is all too real for Black and Brown people.

"Black and Blue" (the screenplay is written by Peter A. Dowling) has layers and choosing to make the newbie, Alicia, a black female cop is an interesting twist. But because she is in blue the community does not trust her. Alicia is in for a shock at how the well-oiled machine of white-privilege and corruption works. After she witnesses the homicide of a young Black man by police offers—all caught on her body cam—she finds herself running for her life and helped by Tyrese Gibson.
Here is where the film gets clunky; choosing to move too fast utilizing a few chase scenes I suspect to keep the film tension-filled.
Alicia is between a rock and a hard place. She learns that her fellow officers are not to be trusted and that a criminal group, run by Terry Malone (Frank Grillo) and Darius (Mike Colter), are motivated and ruthless.
She does not trust her partner Kevin (Reid Scott) and has no choice but to turn to Mouse (Tyrese Gibson) for help. Mouse is a convenience store owner who wants no part of her mess but decides to help her since the community is about to turn its back on her.
If the film looks like Michael Mann's "Heat" its because the team of "Black and Blue" were smart enough to engage cinematographer Dante Spinotti.

There are tender moments, real moments, sprinkled throughout the movie. A Black boy who is convinced of Alicia's guilt points a loaded gun toward her. That's a powerful moment. There are more like this but not enough on the whole.
In the end "Black and Blue" is just a cookie-cutter cop thriller with spotted moments of promise. The acting is solid. The story is believable enough but there is something just not right in "Black and Blue."
Reviewed at Urbanworld Film Festival, Sept. 21, 2019. Directed by Deon Taylor. Screenplay by Peter A. Dowling. Starring Naomie Harris, Tyrese Gibson, Frank Grillo, Mike Colter, Reid Scott, Beau Knapp, Nafessa Williams.