Nets team and Nike to encourage girls to stay active in sports
LOIS ELFMAN | 10/31/2019, 1:36 p.m.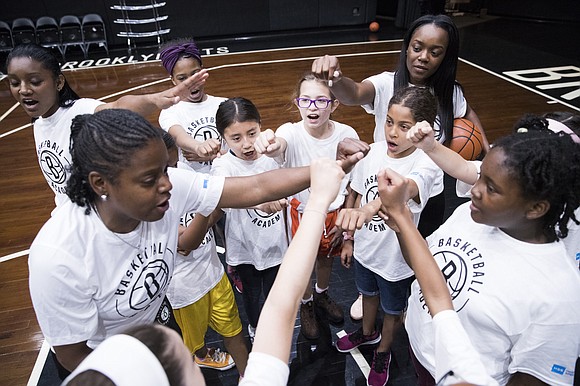 Last week, the Brooklyn Nets announced a partnership with Nike to launch Game Growers, a new national program designed to create inclusive, meaningful sports experiences for girls. Through Game Growers eighth grade girls will work in pairs to develop ideas for these programs and work with participating NBA and WNBA teams to inspire more girls in their communities to play and love sports.
Nets management is genuinely excited that the New York Liberty will play home games at Barclays Center next year, and getting local girls excited about basketball as NBA season kicks off is a great way to start. Eighth grade girls can apply from now until Nov. 15 at gamegrowers.com. Those selected will get to attend Game Growers Training Camp at Nike World Headquarters and then put their ideas in action.
"With this program, they're going to be pretty much our team ambassadors for the grassroots level where they're going to develop ideas in collaboration with us and Nike on how to inspire more girls in the community to continue to play, love and stay with sports as they grow older," said Heather Hall, senior director of community relations for the Nets. "You're giving them the tools and resources to begin to change the mindset of their peers."
Hall said providing a platform for these girls to speak for themselves and share their feelings about sports allows them to have peer-to-peer contact that will enable them to help other girls not drop out of sports.
"We want these girls to be able to tell the story," said Hall. "We want to empower them to make a difference. Realizing there is some change and some challenges that they need to be aware of and talk about…It also empowers them to be leaders. They can stand up for something they believe in and they have an NBA team supporting them."
Last season, the Nets hosted a women's empowerment night and this summer held its first-ever all-girls clinic under the Brooklyn Nets Basketball Academy. The team has also added female instructors to the Academy. Chances are good the two local Game Growers selected will get to interact with Nets players and coaching staff.
"Our guys are very aware of what we do in the community and this is going to be another thing they're aware of," said Hall. "A lot of the guys have an interest in youth at the grassroots level."