Albany expunges and decriminalizes weed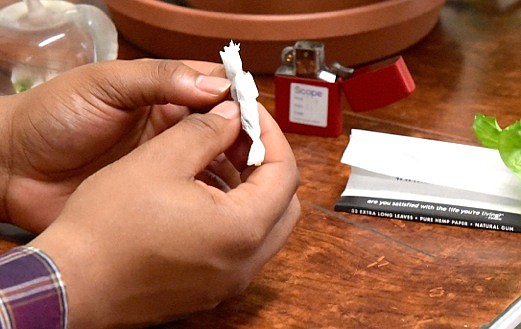 "For nearly 1 million New Yorkers, marijuana expungement represents a new lease on life, removing the suffocating stain of stigma that prevents so many from reaching their highest potential," said Khalil A. Cumberbatch, of New Yorkers United for Justice, in a statement. "This is particularly true for people of color who are nearly four times more likely to be arrested for marijuana possession than white people, despite similar rates of usage.
"Even as we celebrate the significant progress made so far this year, we can't forget our obligations to millions of New Yorkers still waiting for their chance at redemption," added Topeka K. Sam, also of NYUJ. "For too many New Yorkers, second chances remain far too rare."
But decriminalization and expungement isn't enough for some. Melissa Moore, the New York State deputy director of the Drug Policy Alliance, said that New York technically decriminalized marijuana back in 1977, but that didn't stop Black and Latinx New Yorkers from being locked up by the authorities over it.
"The inability of the state Legislature and Governor Cuomo to pass comprehensive marijuana legalization means that Black and Latinx individuals remain disproportionately in the crosshairs of harmful marijuana enforcement," stated Moore to the AmNews. "Decriminalization alone is not enough to deal with the full impact of marijuana prohibition and just gives law enforcement discretion. Actually addressing the legacy of harm from prohibition and targeted enforcement by comprehensively legalizing and reinvesting in communities is what policymakers need to deliver on.
"While it is disappointing that our leaders have once again failed to prioritize racial justice in New York, we will continue to fight on behalf of comprehensive reforms," concluded Moore.
Emma Goodman, a staff attorney with the Criminal Defense Practice's Special Litigation Unit at The Legal Aid Society, agreed with Moore stating that the legislation isn't a step forward because it doesn't address the disparate enforcement of marijuana possession in Black and Latinx communities when compared to white ones.
"Under this statute, for basic marijuana possession, our clients will continue to face parole and probation violations, continue to live in fear of immigration detention and deportation, and continue to be at risk of being separated from their family by an adult or child protective agency," stated Goodman. "All of the collateral consequences of marijuana criminalization that harm communities of color will continue to exist.
"We hope that next year Albany finally enacts the Marijuana Regulation and Taxation Act, legislation that will​ address​ these historic problems that continue to plague our clients and other New Yorkers of color on a daily basis," concluded Goodman.