'Free Meek' takes intimate look at rapper and team who fought 'Filthadelphia' and won
NADINE MATTHEWS | 9/5/2019, 3:33 p.m.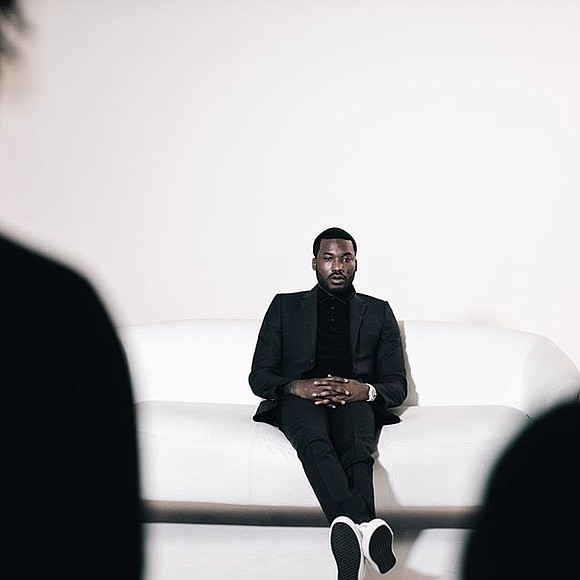 Rapper Meek Mill's (née Robert Rihmeek Williams) Aunt Beverly was caught off guard one day when her niece rushed into her Philadelphia apartment excitedly reporting that Meek, then a teenaged aspiring rapper, was downstairs "spitting." Beverly's niece quickly disappeared without giving details. Alarmed at young Meek's seeming loutishness, Aunt Beverly dashed outside, intent on delivering the scolding of his life. She was soon relieved to find out that "spitting" was a colloquialism. Meek was in the midst of winning one of his earliest rap battles.
Filled with intimate glimpses of his life like the one outlined above, "Free Meek," now streaming on Amazon, traces Mill's rise in the rap game from his neighborhood in Philadelphia to global fame. If the voluminous amounts of footage of Mill, and appearances by friends, peers and family members, did only that, 'Free Meek' would already be wonderfully revelatory. It's evident Jay-Z spared no cost in creating a top quality production. However, "Free Meek," like the rap game itself, is more complex.
Intertwined with Mill's biography—via interviews with Meek Mill himself, Jay-Z, Van Jones, Rolling Stone investigative reporter Paul Solotaroff, Philadelphia Sixers owner Michael Rubin, disgraced former Philadelphia police officers, and co-owners of Quest Research & Investigations, Tyler Maroney and Luke Brindle-Khym—is a deft recounting of Mill's team's determination to untie the Gordian knot of corruption that unjustly bound Mill to the criminal justice system for far too long.
Maroney and Brindle-Khym's firm was retained by Meek's team after Mill's 2017 sentence by Judge Genece Brinkley for another parole violation. "It was a shock to everybody involved," Maroney explains, "Meek was given up to four years in prison for a violation that was so minor. That [Brinkley] had the ability to do this under the system that we built in this country, was appalling. So it was all hands on deck." The duo went on to play a pivotal role in the eventual overturning of Mill's conviction.
Mill's arch-nemesis in many people's minds during his highly publicized struggle with the Philadelphia legal system, Judge Genece Brinkley, plays the same role in "Free Meek." She was, after all, the judge who first sentenced Mill to prison in 2008 on drug and weapons charges, despite the case's shakiness. Mill served approximately one year of the 11 to 23 month sentence, and was initially given five years probation.
One of the more important takeaways from "Free Meek" is the long, oppressive arm of the post-conviction system. Even when released, ex-prisoners live in a state of constant quasi-surveillance, with their actions interpreted and penalized at the whim of the justice system. Mill went to jail in 2014 for a probation violation, was under house arrest in 2015 for yet another, house arrest again in 2016, and back to jail in 2017, all the while racking up more probation time.
Maroney explains that Brinkley, convenient villain though she may be, was perhaps the least important aspect of Mill's case. He explains, "Although the original assignment was to examine the judge's conduct, Meek's freedom and the success of his case was ultimately not built on evidence gathered on Judge Brinkley but on the underlying police corruption that went on, even before she was assigned to the case."