Circle of Sisters great day of unity, entertainment & sisterhood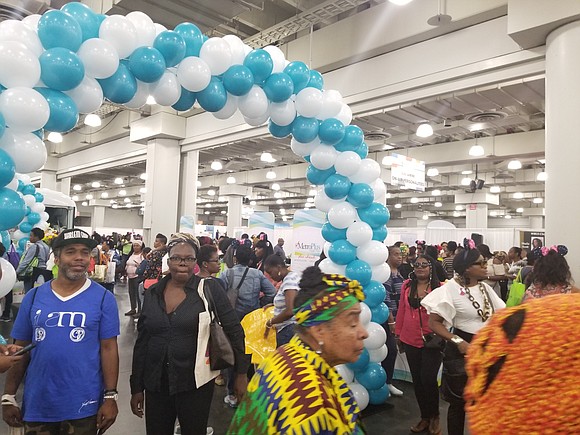 The 2019 Annual Circle of Sisters EXPO came to a grand closing with nearly 30,000 in attendance at Jacob Javits Convention Center in New York City, Saturday, September 7, 2019.
The signature event, Circle of Sisters, continues to reign as the largest EXPO in New York City celebrating and uniting African American women and families. The day kicked off with WBLS's Shaila Taking It to the Max—an intimate conversation of life, culture and music with Brooklyn native and Grammy Award-winning singer Maxwell. The artist was also presented with the Renaissance Man Award. On the not-to-be missed performance stage, award-winning R&B soul singer and writer Brian McKnight and songstress Deborah Cox gave an unforgettable music showcase that left the audience in a joyful mood.
Four of The Exonerated 5: Kevin Richardson, Yusef Salaam, Raymond Santana, and Korey Wise stood strong and proud as they were each honored with the Freedom Fighter Award recognizing their journey to vindication as portrayed in Ava DuVernay's Netflix series "When They See Us, The Central Park 5."
Throughout the day, top celebrities and music sensations hit the stage delivering candid and inspiring messages to the audience. From today's major boss ladies Lisa Price and BET's Connie Orlando to political analysts and MSNBC hosts Joy Reid and Rev. Al Sharpton, to social justice leaders Tamika Mallory, Ilyasah Shabazz and Gina Belafonte, and 2019 Miss USA Cheslie Kryst—all shared truths and candid discussions to better the community and inner self.
This year's highlights included a star-studded PowerFULL panel featuring cast members Naturi Naughton, Rotimi, Larenz Tate and Joseph Sikora discussing the groundbreaking show POWER and their careers in entertainment; a one-on-one conversation with author, living style legend and icon Dapper Dan discussing his life from Harlem to now, and presenting him with the Style Icon Award.
"Power represents the culture in an authentic way because of the diversity of the characters in coming from different backgrounds," Naturi Naughton told a packed auditorium. "Power also utilizes music in a cool way. The fact that even the theme song is important to viewers says a lot."
"Everyone respects each other. It feels like a family as I've watched each actor grow and I'm happy to be a part of the Power family," said Larenz Tate.
Speaking with the Amsterdam News, "Everybody is invested. And when you have a TV show that's written—it's not a reality show; it's not some movie of the week. I'm not taking a shot at any of those other formats; I'm just saying that this is something that people are invested in. It speaks to the writers, the directors, the producers, and the actors who put this stuff together—so it is nice."
WBLS' Lenny Green hit the main stage with a "Good Life" conversation with Hollywood starlet Meagan Good sharing insights on health, love, life and the pursuit of personal happiness. We closed the day with a rousing and electrifying performance by the cast of Tony-nominated Broadway musical "Ain't Too Proud: The Life and Times of the Temptations," followed by the sold-out Gospel Explosion concert, hosted by WBLS' Neicy Tribbett, Liz Black and Donnie McClurkin with featured performances by today's leading gospel artists Hezekiah Walker, Anthony Brown, Jonathan Nelson and Yolanda Adams.