Eight places to catch your dinner and eat it too
SHERYL NANCE-NASH | 9/12/2019, 3:50 p.m.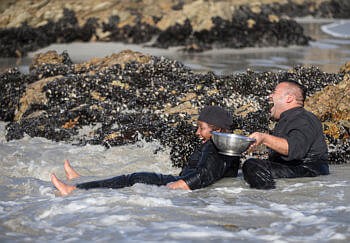 Okavango Delta, Botswana
In Botswana's Okavango Delta, believed to be the largest inland delta in the world, safaris to view wildlife can include a fishing adventure. You may find yourself fishing near hippos and you'll want to keep your distance. In this oasis of wildlife, animals truly rule. You may spot giraffes, wildebeest, zebras, elephants and more as you cast for bass, bream, tilapia, African pike and dozens of other species of fish. As you travel through the delta's water channels in a boat, you can have your pick of private fishing areas and islands. Shore up on your own private island, where your guide may build a fire, perhaps under a giant baobab tree and cook your fresh catch right there over a campfire. It sounds simple, but it will be some of the freshest fish you've ever had. If you want to take a break after fishing, you can also have camp cooks prepare your fish and dine at a table outdoors by the Delta. This adventure can be experienced through a variety of safari companies and lodges. 
White Point Beach, Nova Scotia
Would you like to walk in a pair of big boots? Try stepping in those of Nova Scotia's legendary lobster fishers. You can do so with the White Point Beach resort's two-night Great Canadian Lobster Fishing Feast, available from February-May. You'll be privy to an exclusive meet-and-greet with the captain and crew featuring Nova Scotia's signature wine, Tidal Bay and lobster croquettes and Lobster 101 Orientation to learn about the fishing equipment and gear. Anticipate the half-day sunrise lobster fishing expedition aboard a 37-foot lobster boat, where you'll help the crew measure and band the lobsters, as they haul in dozens of traps. Then there's an executive chef-prepared ocean-side feast made with the freshly caught crustaceans and wine pairing.
Taipei, Taiwan
In Taiwan, there's a popular pastime called urban shrimping. Shrimpers cast their lines into concrete indoor pools filled with large freshwater shrimp. It's typically a whole day of fun with lots of beer. Any shrimp they catch are then skewered, salted and grilled on the premises.