Horoscopes with Ashley's Aquarian Age, September 12 - September 18
Ashley Brockington | 9/12/2019, 3:49 p.m.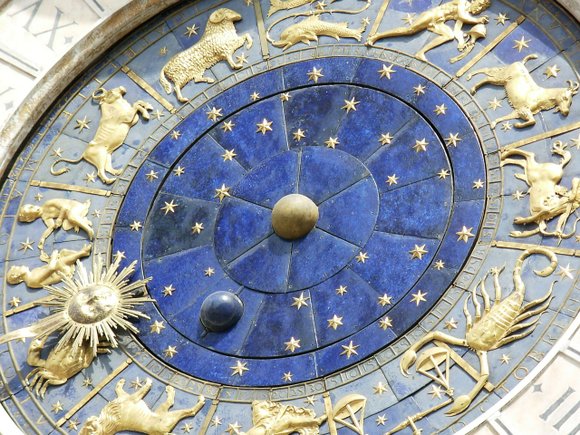 This week we find ourselves halfway through the lunar month. Welcome to the full moon in Pisces. Peaking just after midnight on Saturday, full moons are a time of release and celebration. This particular full moon celebrates the harvest. The gardens have served us well, kept us fed and supported our growth. The bounty of the external world is apparent. But Pisces is about the internal world. And our internal landscapes are just as abundant as the late summer fields. This weekend, the moon and Neptune are in partnership, sitting across from that Virgo party we've been talking about for weeks. Make sure to make time for imaginative play, visioning and day-dreaming. The downloads you receive will be harnessed, supported and grounded by meticulous Venus. But wait, there's more! Expansive Jupiter is relating to the whole party by squaring both the moon/Neptune conjunction and the Virgo situation. Adding what exactly? Read on to find out how these energies might be showing up for you.
Aries: Your emotions are on high alert. You will feel sensitive to everything. This is a good weekend to pull away from social distractions if you want to get any work done. If you do find yourself out and about this weekend, careful not to overdo it. Maybe skip that last round? Jupiter has you feeling reckless, and the moon and Neptune are seriously clouding your rational mind.
Taurus: Allow yourself to be transformed through your intimate connections. Is there someone out there that you are an artistic match for? Your creations are unique and it is sometimes hard for you to feel artistically aligned or inspired by mere mortals. Surround yourself with like-minded souls. The partnerships that you cultivate now have profound effects long-term.
Gemini: Your career house is being lit up by the dreamy Piscean energies. You may feel a little fuzzy as to what direction your career should take. It's a good thing that there is so much grounded earth energy in the area of your home. Solid and secure earth underfoot. Is there some romantic energy that you can roll around in to get your mind off work? Make some time for fun with special friends. They might even provide insight into the career situation.
Cancer: Dedicate this full moon to going after new information. What do you want to know more about? Who inspires you to know more? Where is your information coming from? Your networks are expanding. Talk to everyone. No exaggerating or speaking in superlatives. Dazzle them with your most authentic self. Be honest with yourself and others. Prepare for upgrades and inspiration at work.
Leo: The full moon will be in your house of intimacy and transformation suggesting a deepening of a current relationship. This could suggest sexual or financial intimacy. Considering the Virgo party is in your 2nd house of holdings, stuff and things you love, I'm going to suggest that personal finance is taking up some major Leo brain activity. It's time to step up your financial literacy. Careful of anything too high risk. Expansive Jupiter makes you think that everything is a sure-thing.