Pumpsie Green, first Black on the Boston Red Sox
Herb Boyd | 9/12/2019, 4:04 p.m.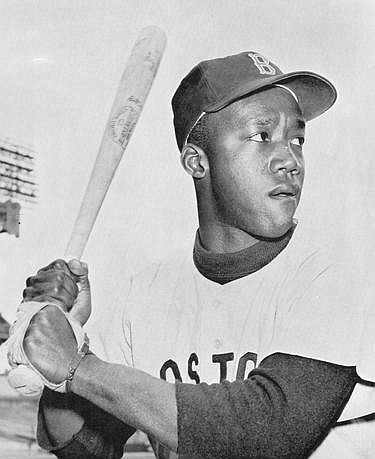 Obviously, such comments did not endear him to the NAACP or to fans who were interested in him being representative of the Civil Rights Movement and another symbol of victory. If the reception across the nation was lukewarm, Green was congratulated by Robinson in a phone call. There were warm regards from Boston Celtic immortals K.C. Jones and Bill Russell, both of whom Green knew from their college days at the University of San Francisco.
Playing mostly as a shortstop and second baseman, Green's numbers were not extraordinary and in his four seasons with the Red Sox he was a regular only in 1960, and this questions whether he actually stood at home plate with Howard in 1962. A year later he was with the New York Mets where he played in 17 games, and finished his career that same year. All in all, he appeared in 344 games in the majors and compiled a .246 batting average.
One incident in his life is often cited from the summer of 1962 when the Red Sox bus got stuck in traffic on its way to the George Washington Bridge and onto the Newark Airport. According to Gene Conley, a pitcher and a former professional basketball player, he and Green asked permission to leave the bus in order to use a public restroom at a bar. When they returned the bus was gone. Green, having missed the team's plane to Washington, flew there later but missed the game. Conley, who was missing for several days, said he had gone to Idlewild airport with the intention of flying to Israel, but was refused since he had no passport. They were both admonished and fined.
After his retirement from the major leagues, he coached baseball in the school system in Berkeley, Calif.

Green, 85, died on July 17, 2019, at a hospital in San Leandro, California, after a brief illness. Before a game that evening there was a moment of silence was held in his memory.
John Henry, the Red Sox's principal owner, said Green was, "by his own admission, a reluctant pioneer, but we will always remember him for his grace and perseverance in becoming our first African American player."