Zimbabwe's former president, Robert Gabriel Mugabe, passes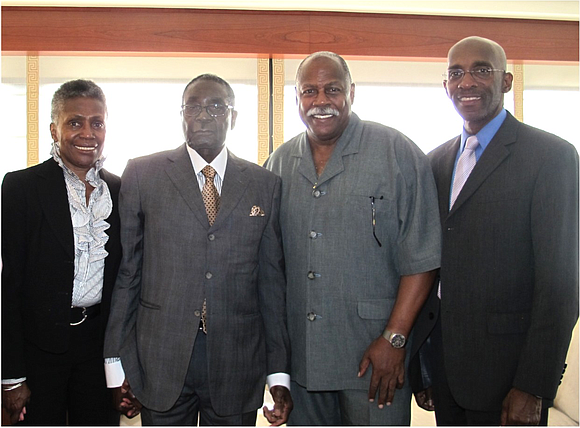 • Cde. Mugabe and the ZANU-PF led government answered the historic demand of the Zimbabwean people for land—the goal for which their liberation war was fought. Land is the fundamental starting point and foundation for real democratic rights. And to fulfill this human right, the government transferred millions of hectares of stolen land back to Zimbabweans—the largest repatriation of stolen colonial property in the history of Africa.
• Cde. Mugabe and ZANU-PF's unity, intelligence, creative genius and commitment have sustained Zimbabwe and its people through two decades of relentless western economic assault, led by the British and their "Kith and Kin" American brethren, to break the back of the Zimbabwe revolution. They have failed.
Remember…
• Cde. Mugabe and the ZANU-PF led government took the lead at the 2001 U.N. World Conference Against Racism in supporting the declaration that the trans-Atlantic Slave Trade, Slavery and Colonialism were "Crimes against Humanity" laying the international legal basis for Reparations to the victims.
• Cde. Mugabe and the ZANU-PF led government took the lead in chairing the military division of SADC [Southern African Development Community] in sending troops to defend the Democratic Republic of Congo against western plots to divide and balkanize the country to steal its wealth.
• In 2004, Cde. Mugabe and the ZANU-PF led government, exposed and arrested at Harare Airport the participants of an international coup attempt against Equatorial Guinea, backed by British financial interests and led by Sir Mark Thatcher [son of former British Prime Minister Margaret Thatcher], South African and British mercenaries. The attempted coup, which arose from of the discovery of vast oil reserves in Equatorial Guinea, was designed to give preferential treatment to British financial interests. 
The role of H.E. Cde. Robert G. Mugabe in defending the African revolution is fact. Revolutionary ZANU-PF, whose building was one of his greatest accomplishments, lives on after his passing.
Of course there will be more to say, think and analyze concerning the lessons that Cde. Mugabe taught and learned himself. However, what cannot be contested is his commitment to the liberation of Zimbabwe and his contributions to the African revolution.
This commemorative statement on H.E. Cde. Robert G. Mugabe will be expanded Tuesday, Sept. 17, 2019 at 6:30 p.m. at All Saints Episcopal Church, 88 St. Nicholas Avenue [off 114th St.]—and further enriched by the return that day of a  Dec. 12 Movement delegation from the funeral and burial at Zimbabwe's National Heroes Acre of this African icon, comrade and friend.