Joan Johnson, a Black hair care pioneer
HERB BOYD | 9/19/2019, 5:17 p.m.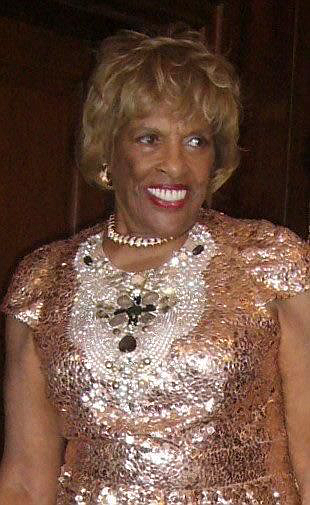 It's never too soon to pay homage to a woman who made such a mark on our culture and on our heads. Joan Johnson may not have been the inventor of Ultra Wave and later Afro-Sheen, but she kept the books and handled the day-to-day activities and the production schedule at the company that became an empire of hair care products.
Joan B. Johnson died on Sept. 6 at 89. Throughout her long career she expressed a keen business acumen, particularly understanding certain trends in the market. She was born Joan Betty Henderson in Chicago on Oct. 16, 1929. Her father was a railroad porter and probably a member of A. Philip Randolph's Sleeping Car Porters.
As a high school student she met her future husband George Johnson, who later admitted he had a crush on her long before she knew it.
Their romance blossomed into marriage and then a nest full of children, which meant household duties for Joan. Meanwhile, her husband, who had dropped out of high school, began selling cosmetics for Fuller Products. Later, he began working in the company's laboratory where he learned to make beauty products on his own.
He was working on the side as a hair stylist when he began concocting lye and petroleum, an ointment and treatment akin to conking, which made it easier to straighten hair. His next step was to secure a loan to start his own company but he was denied; he was told his venture was too risky. But at another branch of the bank, a few days later, he was able to get the $250 loan he needed, after telling the banker the request was for a family vacation.
At the start of his business he sold the company products only to barbers, gradually expanding his business to include women hair stylists and the retail market. His products reached more consumers after he began sponsoring "Soul Train," the popular television dance show. The company grew even larger in the late 1960s when Afro-Sheen was produced to groom the more natural look.
Earlier in the company's evolution, many African American men were turned on by the Ultra Wave ad with a Black man, his hair looking like silk, "culture-grooms" the ad promised.
There were a number of hiccups at the start, none more exasperating than the vandalism they experienced in a white neighborhood where their warehouse was located, and later a highly destructive fire. But they were determined.
With the expansion of the company came an increase in the need of Joan's skills as Johnson Products began to dominate the hair care market. In 1971, it became the first Black-owned company to be listed on the American Stock Exchange. It was a bountiful period for the couple, now armed with enough capital to have luxurious homes in Paris and Jamaica.
They were often viewed as the ideal couple.
And then they weren't after their divorce in 1989. Even before the divorce things were not so rosy for the crown jewel of hair care. First of all there was the intervention of the Federal Trade Commission that required labels be placed on products using lye. When other companies found alternative chemicals they began to compete with the Johnson Company.