October 2019 Dance Calendar
CHARMAINE PATRICIA WARREN | 9/26/2019, 12:35 p.m.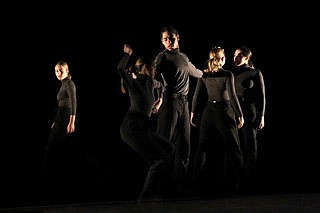 This month is jam-packed, but be sure to include the American Dance Guild (ADG) Festival 2019, "Shaping the Now: Dance in Uncertain Times," where they will honor dance educator and advocate Jody Gottfried Arnhold, dancer/choreographer/teacher/writer Gus Solomons jr, and Abdel R. Salaam, co-founder and director of Forces of Nature Dance Theater, with a "Lifetime Achievement Award" on Oct. 3-6 at the Ailey Citigroup Theater. There will be four days of performances by 33 contemporary choreographers from across the United States. Slated for the presentations is Gottfried Arnhold's film PS Dance!, Solomons jr. will present his new work, PS1 Redone, and Salaam's Forces of Nature Dance Theater will present a medley of works including a solo dedicated to his mother, E.R., and A Question of Modesty. This year's theme was chosen in response to what many agree is a stressful time in our national political life. The 2019 American Dance Guild Festival pays tribute to the American dance heritage, and is dedicated to past ADG President Muriel Manings. For more information, visit www.americandanceguild.org
STILL RUNNING:
Sept. 25-28–BAAD! and The Chocolate Factory will co-present Maria Bauman-Morales/MBDance's evening-length (re)Source, "a dance and spoken artwork performed inside an installation crafted by Bauman-Morales in consultation with Zimbabwean-born interdisciplinary artist Nontsikelelo Mutiti," according to the release. For more information, visit www.baadbronx.org
Sept. 26–28–As part of the French Institute Alliance Française's "Crossing Line Festival," the Senegalese and French performer, choreographer and teacher, Germaine Acogny, known as the "Mother of Contemporary African Dance," returns to New York with the premiere of SOMEWHERE AT THE BEGINNING "…tracing African history interwoven with her own life narrative." For more information, visit www.crossingthelinefestival.org
Sept. 27-28–At The Billy Holiday Theatre in Brooklyn, Ronald K. Brown/EVIDENCE celebrates the 20th anniversary Gatekeepers and Water, both made in 1999, featuring Brown's signature fusion of African and contemporary dance with spoken word. For more information, visit www.TheBillieHoliday.org
Sept. 30–The Guggenheim building's 60th and Dance Theatre of Harlem's (DTH) 50th anniversaries, coincide for the Works & Process series, and DTH will pay tribute to its history in a restaging of TONES II, by former DTH principal ballerina Lorraine Graves, set to music by Tania León. For more information, visit www.worksandprocess.org
ALSO THIS MONTH:
Oct. 1–13–Fall for Dance Festival, the annual two-week festival at New York City Center which brings dance to many for just $15, returns for year 16 with five diverse programs including performances by Misty Copeland, Kim Brandstrup for NYCB principal dancers Sara Mearns and Taylor Stanley, Sonya Tayeh with live music by Moses Sumney, Alicia Graf Mack, Alvin Ailey American Dance Theater, English National Ballet (United Kingdom), MADBOOTS DANCE, Malevo (Argentina), The Mariinsky Ballet (Russia), Skånes Dansteater (Sweden), Vuyani Dance Theatre (South Africa), and more. For more information, visit www.nycitycenter.org
Oct. 2-12–The Chocolate Factory Theater and Abrons Arts Center come together to present the premiere of Antonio Ramos and the Gang Bangers' "El pueblo de los Olvidados, Parte II" (The Village of the Forgotten), "…a dance-theater performance in the genre of science-fiction, prompted by Ramos's research about Puerto Rico in the wake of Hurricane Maria," according to the release. For more information, visit www.chocolatefactorytheater.org.