Stealth Isolation: Five Black nonfiction books that inspire
JORDANNAH ELIZABETH | 4/9/2020, midnight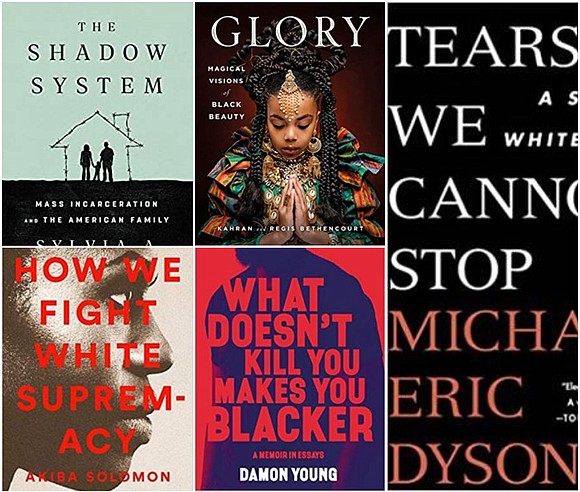 It looks like the shelter-in-place and stay-at-home mandates will be enforced indefinitely. It is important that we continue to stay strong and function without a foreseeable future. While we are working from our DIY offices and homeschooling our children, while we soldier on and go to work at grocery stores and the post office, we have to find time to inspire ourselves to become a unified Black community.
I've chosen five Black nonfiction books that will remind you that you're indispensable to this world. Your work, your presence, and your perception of the world is unique, and even if you feel like you are not doing anything but reading a book, know that your life is a contribution to the forward motion of Black American culture and the world at large.
"What Doesn't Kill You Makes You Blacker: A Memoir in Essays" by Damon Young
From the cofounder of VerySmartBrothas.com, and one of the most read writers on race and culture at work today, a provocative and humorous memoir-in-essays that explores the ever-shifting definitions of what it means to be Black (and male) in America. For Damon Young, existing while Black is an extreme sport. The act of possessing Black skin while searching for space to breathe in America is enough to induce a ceaseless state of angst where questions such as "How should I react here, as a professional Black person?" and "Will this white person's potato salad kill me?" are forever relevant. "What Doesn't Kill You Makes You Blacker" chronicles Young's efforts to survive while battling and making sense of the various neuroses his country has given him, and is a hilarious and honest debut that is both a celebration of the idiosyncrasies and distinctions of Blackness and a critique of white supremacy and how we define masculinity.
"The Shadow System" by Sylvia A. Harvey
A searing exposé of the effects of the mass incarceration crisis on families, including the 2.7 million American children who have a parent locked up. In "The Shadow System," award-winning journalist Sylvia A. Harvey follows the fears, challenges, and small victories of three families struggling to live within the confines of a brutal system. Through these stories, Harvey reveals a shadow system of laws and regulations enacted to dehumanize the incarcerated and profit off their families—from mandatory sentencing laws, to restrictions on prison visitation, to astronomical charges for brief phone calls. "The Shadow System" is an eye-opening account of the way incarceration has impacted generations of American families; it delivers a galvanizing clarion call to fix this broken system.
"How We Fight White Supremacy: A Field Guide to Black Resistance" by Kenrya Rankin
This celebration of Black resistance, from protests to art to sermons to joy, offers a blueprint for the fight for freedom and justice, and ideas for how each of us can contribute. Many of us are facing unprecedented attacks on our democracy, our privacy, and our hard-won civil rights. If you're Black in the U.S., this is not new. As Colorlines editors Akiba Solomon and Kenrya Rankin show, Black Americans subvert and resist life-threatening forces as a matter of course. In these pages, organizers, artists, journalists, comedians, and filmmakers offer wisdom on how they fight white supremacy. Featuring contributions from Ta-Nehisi Coates, Tarana Burke, Harry Belafonte, adrienne maree brown, Alicia Garza, Patrisse Khan-Cullors, the Rev. Dr. Valerie Bridgeman, Kiese Laymon, Jamilah Lemieux, Robin D.G. Kelley, Damon Young, Michael Arceneaux, Hanif Abdurraqib, Imani Perry and more, it's a must-read for anyone new to resistance work and for the next generation of leaders building a better future.
"Glory" by Kahran and Regis Bethencourt
From the dynamite husband and wife duo behind CreativeSoul Photography comes "Glory," a photography book that shatters the conventional standards of beauty for Black children, featuring a foreword by Amanda Seales. With stunning images of natural hair and gorgeous, inventive visual storytelling, "Glory" puts Black beauty front and center with more than 100 breathtaking photographs and a collection of powerful essays about the children. At its heart, it is a recognition and celebration of the versatility and innate beauty of Black hair, and Black beauty. The glorious coffee-table book pays homage to the story of our royal past, celebrates the glory of the here and now, and even dares to forecast the future, bringing to life past, present, and future visions of Black culture and showcasing the power and beauty of recognizing and celebrating oneself.
"Tears We Cannot Stop: A Sermon to White America" by Michael Eric Dyson
Short, emotional, literary, powerful, "Tears We Cannot Stop" is the book that all Americans who care about the current and long-burning crisis in race relations will want to read. As the country grapples with racist divisions at a level not seen since the 1960s, one man's voice soars above the rest with conviction and compassion. In his 2016 New York Times op-ed piece "Death in Black and White," Michael Eric Dyson moved a nation. Now he continues to speak out in "Tears We Cannot Stop," a provocative and deeply personal call for change. Dyson argues that if we are to make real racial progress we must face difficult truths, including being honest about how Black grievance has been ignored, dismissed, or discounted. "The time is at hand for reckoning with the past, recognizing the truth of the present, and moving together to redeem the nation for our future. If we don't act now, if you don't address race immediately, there very well may be no future."