Criminal justice activists blast Cuomo over bail reform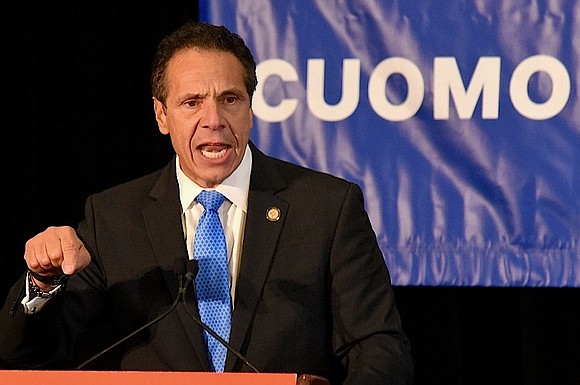 New York State Gov. Andrew Cuomo has made a national name for himself discussing COVID-19. He speaks of social distancing and using multiple tactics to roll back the spread of the virus.
Police reform activists believed that this was the perfect cover from him to roll back hard-won victories on bail reform.
With barely two years since Albany passed criminal justice reforms, the governor rolled back some of the bill's language. Much of that language addressed the elimination of cash bail for certain charges.
The recently passed budget scales back cash bail reform, which could result in more New Yorkers thrown into jail, after being charged for a criminal offense, and not being able to make bail if they don't have the money. Judges could still set bail for those accused of violent felonies, but everyone else could be released while awaiting trial.
Cuomo's rollback of bail-reform also added 15 more felonies to the list of ones the judges could set bail for including sex trafficking, child pornography, grand larceny and money laundering in the first degree, vehicular assault in the first degree, assault in the third degree (which is a misdemeanor), and bail jumping in the third degree.
Reformists said that the rollbacks would mainly affect working-class city residents and New Yorkers of color who can't pay their way out of jail while awaiting trial. Less than five months since the bill went into effect, fear-induced tactics by the police, local conservative and right-leaning media were loud enough for Cuomo to listen, according to activists.
Paulette Soltani, political director of VOCAL-NY, said Cuomo's new budget is built on austerity and exploits the pandemic to push a political agenda. She said that the rollback is short-sighted considering how the coronavirus is wreaking havoc in the prison system.
"With nearly two thousand lives lost to COVID-19, the governor chose to slash Medicaid, incarcerate poor New Yorkers, and leave tens-of-thousands without homes and vital services," said Soltani in a statement to the AmNews. "…Gov. Cuomo is the only executive in the country to exploit the COVID-19 crisis to ram through rollbacks to bail reform that will increase jail populations throughout the state and further disrupt people's access to the fragile social safety net.
"This move directly contradicts other executives and public health experts who are working to reduce jail populations in order to prevent the spread of the virus," said Soltani.
Anti-bail reform reached a fevered pitch two months ago when Bronx resident Robert Williams walked into the 41st Precinct in the Hunts Points/Longwood area and opened fire on officers. He shot Lt. Jose Gautreaux in the process. Surveillance cameras showed Williams dropping his gun and waiting for the cops to arrest him.
Earlier that weekend, Williams ambushed two other cops in Mott Haven shooting Paul Stroffolino in the neck.
Williams had a criminal history dating back to 2002 when he got into a gunfight with police.
The officers from both shootings survived but the damage was done.
In its aftermath, recently appointed NYPD Commissioner Dermot Shea called it an "assassination" attempt on cops and blamed the shooting on anti-police sentiment.
The Sergeant's Benevolent Association (SBA) went after de Blasio in an uncharacteristic way, using social media to voice displeasure with New York City Mayor Bill de Blasio and bail reform in general.
'Mayor DeBlasio, the members of the NYPD are declaring war on you! We do not respect you, DO NOT visit us in hospitals," read one tweet on the SBA's Twitter page in February. "You sold the NYPD to the vile creatures, the 1% who hate cops but vote for you. NYPD cops have been assassinated because of you. This isn't over, Game on!"
This lead to a police investigation into SBA President Sergeant Ed Mullins regarding his history of offensive statements considering he controls SBA's Twitter account.
Carolyn Martinez-Class, a spokesperson for Communities United for Police Reform (CPR), said Albany messed up by not confronting Cuomo sooner to drown out the sounds of anti-bail reform sentiment.
"The state legislature should have used its considerable power to block Cuomo's harmful expansion of criminalization, his neglect of homeless and other low-income New Yorkers, and his concessions to racist fear-mongering championed by police unions to roll back bail reform," said Martinez-Class in a statement to the AmNews.
Martinez-Class also said that Albany should've focused on housing the homeless and housing insecure in vacant apartments and hotel rooms during the pandemic and making food, bathrooms, wash stations and hand sanitizers/disinfectant products available to all homeless New Yorkers on the streets and in shelters.
"But none of that happened," stated Martinez-Class.
Albany Country District Court Attorney Candidate Matt Toporowski called Cuomo's new budget the result of fear over facts and a recipe for disaster.
"Instead, amid a cry by those with power that our communities were less safe and an echo from many people who've never been in a criminal courtroom or justice-involved, the legislature rolled back positive reforms during a worldwide pandemic," Toporowski stated
New York State Assembly Member Rodneyse Bichotte said the expansion of crimes to include lesser offenses give the justice system the chance to return to the pre-bail reform era, which would lead to more wrongfully accused and imprisoned individuals.
"This will have a negative impact on low-income and minority communities," said Bichotte.
But how long would the impact be felt?
"Our communities will feel the effects of the governor's budget long after the COVID-19 crisis has passed," said Soltani.