'Selah and The Spades'—written/directed by Tayarisha Poe, now on Prime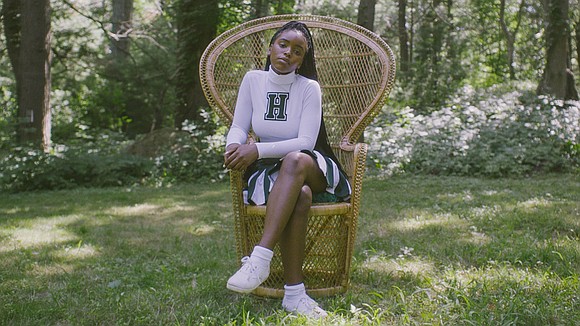 Writer-director Tayarisha Poe, who now calls New York home, has her first film streaming on Amazon Prime. Called "Selah and The Spades," it's about the closed world of an elite Pennsylvania boarding school, Haldwell, where the student body is run by five factions.
Seventeen-year-old Selah Summers (Lovie Simone) runs The Spades, the most dominant group, with unshakable poise, as they cater to the most classic of vices and supply students with coveted illegal alcohol and pills. Tensions between the factions escalate, and when Selah's best friend/right hand Maxxie (Jharrel Jerome from "Moonlight") becomes distracted by a new love, Selah takes on a protégée, enamored sophomore Paloma (Celeste O'Connor), to whom she imparts her wisdom on ruling the school. But with graduation looming and Paloma proving an impressively quick study, Selah's fears turn sinister as she grapples with losing the control by which she defines herself.
Poe considers herself essentially a storyteller. Growing up in West Philly, she was chosen as one of the "25 new faces of independent film" by Filmmaker magazine in 2015, and in 2016 she received the Sundance Institute's Knight Foundation Fellowship. In 2017 she was selected for the January Sundance Screenwriters Lab and the June Sundance Directors Lab. She is a 2017 Pew Fellow.
In her feature debut, Poe immerses us in a heightened depiction of teenage politics. Here is what Poe had to share about her journey to make "Selah and The Spades."
AMSTERDAM NEWS: How did this project originate?
TAYARISHA POE: I made an overture to "Selah and The Spades," called "Overture," in 2014, knowing I eventually wanted to make a feature. But I didn't know how to write a feature script, and I didn't know what it would be about, so I wrote short stories about the characters and their world—one every day for the month of November 2014. At the end of the month, I had all these stories. Since I knew how to write and take photos, I turned the stories into separate multimedia works. It's not the most conventional approach to making a movie but it worked for the story because I wound up spending so much time world-building and thinking about the lives of these kids, which in the end made the feature itself so much more complex and rich.
AMN: At what point did you decide to make a gangster movie set in high school?
TP: From the project's inception. The first Selah story I wrote was about Selah watching from afar as Maxxie beats up this kid who owes them money. It was about this girl who doesn't get her hands dirty—she sends other people to do her dirty work. That's the kind of story I've always been drawn to.
AMN: This is a movie about power. What did you want to explore about power through this movie, or these characters?
TP: Power is an addictive thing, and I'm interested in the things people do to hold onto power, especially if you're a person who lacks power, like a woman for example. What will you do to hold onto power once you have it? I'm interested in exploring that, because who doesn't want power? Who doesn't want to be able to do whatever they want and nobody can tell them otherwise. To me, that's a thrilling thing.
AMN: What makes Selah powerful?
TP: People who are good at holding onto power tend to be those who are constantly competing against themselves, and I see that quality in Selah. That sort of constant competition is powerful unto itself; it's something I feel like I'm examining every day of my life, in everything I write.
AMN: Any other things you would like your audience to take away from this movie?
TP: This one is specifically for Black girls or people of color, but I hope audiences will see people who look like them doing what they want to do, or being able to do whatever they want to do, which is important to me, in addition to having empathy for people who are doing what they want to do. It's invigorating to see that on the screen, even if it's not something you yourself would personally do. Hopefully, it will inspire others to do what they want to do in life.