Actress Kara Young talks life during COVID-19
Linda Armstrong | 4/23/2020, 5:11 p.m. | Updated on 5/8/2020, 5:11 p.m.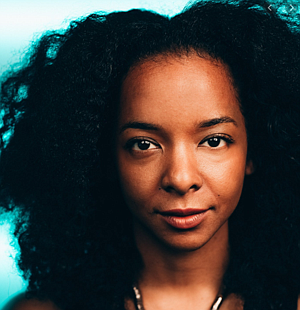 I had the distinct pleasure of experiencing an incredibly talented young actress named Kara Young for the first time in a play called "The New Englanders" that played by NY City Center and was written by Black playwright Jeff Augustin. In this dramatic work she impressively portrayed a high school senior named Eisa, who was struggling to find out her place in life. The next production I saw her in was, "Halfway Bitches Go Straight To Heaven", performed at the Linda Gross Theater and written by Stephen Adly Guirgis, Young played a young girl in the halfway house named Little Melba Diaz and again delivered a mesmerizing performance. I was anticipating going to see Young in her newest project, where she earned the starring role in "All The Natalie Portmans" a production by Black playwright C.A. Johnson, but then the coronavirus pandemic hit and all productions ended. Theater is a gift from God, because when done well, it can take you from your life issues and give you a chance to escape into the world that is being performed on stage. Now, this opportunity was taken away. I wondered how this horrible situation is impacting artists in the performing arts and I recently spoke with Young to find out about her project closing and how her life has drastically changed due to the corornavirus, a Q&A follows below.
AmNews: I know the show had to close prematurely, how and when did you find out?
KY: We found out the day it had to close, it was abrupt but... I know it was the best decision for all.

AmNews: How did you get cast in this starring role?
KY: I read All the Natalie Portmans by C.A. Johnson late 2017 while I was doing Syncing Ink. It was the day after my dear friend Voodoo Ray had suddenly passed. And when I read it, there was actual literal magic on the page and in the room. I felt like I had entered a world that had been trapped in my psyche and I just opened this door.
AmNews: What was the play about?
KY: That's a deep question because I feel like All the Natalie Portmans focuses on many themes and can tell many stories depending on what resonates with you the viewer. Everyone is watching a different play because we are all different.
At its core (to me), it's the story of a teenager with big dreams and hopes to get out, grieving the loss of her father and dealing with her alcoholic mother and loving brother, who ends up acting out of desperation and suddenly she is stuck with the responsibility of being an adult...growing up fast and leaving her dreams behind. It is also about a teenager who is obsessed with pop culture and a total cinefile but ultimately - that is the obsession with whiteness and white hollywood.
AmNews:What was the message of the production?
KY: How the media can shape the ambitions and aspirations of the young mind, specifically in this case, black youth, there are so many messages in All The Natalie Portmans.
AmNews: What projects are you looking at in the future and how difficult is it to plan what happens next?
KY: I honestly don't know how to think of the future in this state that we are in. I don't know how long this will last.
AmNews: How are you and other theater professionals, able to make ends meet and take care of things like rent, food, etc? Can you apply for unemployment or can that be tricky?
KY: I have applied for unemployment and we will have to see how that will help right now. there are a lot of things that need to be taken care of and but so much we can do from home.
AmNews: What are your concerns for off Broadway theater professionals, including theater security?
KY: I don't know how we will congregate after this... I don't know how we will even come together and feel secure in community. we can however adapt, adapt to the ever-changing technology and ways for us to stay in communication, in community, to maintain a sense of purpose. Also, to attempt to use this precious time to create and blossom as artists in solitude.
AmNews: What are your concerns for the public and members of the healthcare profession during this time of crisis?
KY: I am very concerned for healthcare workers. they are our heroes. They are putting themselves in sacrificial position everyday to heal humanity. I pray for them and their families and praise their spirits to get up everyday.
AmNews: How are you keeping yourself safe and healthy?
KY: I am staying home and wearing a mask when I am out, washing my hands whenever I touch something and overall taking the necessary precautions to keep myself and others safe.
AmNews: How do you occupy your free time, are you doing things online that can net you income?
KY: I haven't gotten that far just yet...
AmNews: You are such a gifted, phenomenal actress, what are you doing to keep your spirits up?
KY: Thank you for that, Linda. I am trying everyday to keep my spirits up. I'm also in a constant state of gratitude, constantly reminding myself of the privilege to be alive and healthy right now and to have shelter and most importantly love. Thank you so much for the opportunity to share my thoughts. My heart goes out to people who are suffering and compromised at this moment in time and families of people who have lost their lives. My heart is aching.
My heart and prayers also go out to essential workers who are putting themselves in harms way everyday—hospital workers, police officers, EMS workers, Firemen, grocery story workers, 99cent store workers, Family Dollar workers, Dollar Tree workers, laundromat workers, pharmacy workers, sanitation workers, MTA workers, postal workers and restaurant workers. I also want to thank teachers who are teaching our children online and going beyond the mark to keep lines of communication open with the students on Zoom and Google classroom. During this pandemic I pray for everyone's mental health because the likes of this we have never seen in our lifetime. God bless.