Actress Kara Young talks life during COVID-19
Linda Armstrong | 4/23/2020, 5:11 p.m. | Updated on 5/8/2020, 5:11 p.m.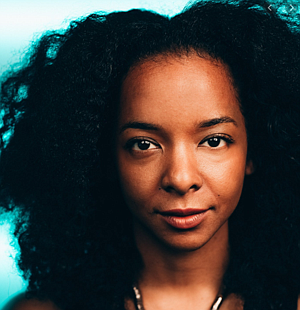 I had the distinct pleasure of experiencing an incredibly talented young actress named Kara Young for the first time in a play called "The New Englanders" that played by NY City Center and was written by Black playwright Jeff Augustin. In this dramatic work she impressively portrayed a high school senior named Eisa, who was struggling to find out her place in life. The next production I saw her in was, "Halfway Bitches Go Straight To Heaven", performed at the Linda Gross Theater and written by Stephen Adly Guirgis, Young played a young girl in the halfway house named Little Melba Diaz and again delivered a mesmerizing performance. I was anticipating going to see Young in her newest project, where she earned the starring role in "All The Natalie Portmans" a production by Black playwright C.A. Johnson, but then the coronavirus pandemic hit and all productions ended. Theater is a gift from God, because when done well, it can take you from your life issues and give you a chance to escape into the world that is being performed on stage. Now, this opportunity was taken away. I wondered how this horrible situation is impacting artists in the performing arts and I recently spoke with Young to find out about her project closing and how her life has drastically changed due to the corornavirus, a Q&A follows below.
AmNews: I know the show had to close prematurely, how and when did you find out?
KY: We found out the day it had to close, it was abrupt but... I know it was the best decision for all.

AmNews: How did you get cast in this starring role?
KY: I read All the Natalie Portmans by C.A. Johnson late 2017 while I was doing Syncing Ink. It was the day after my dear friend Voodoo Ray had suddenly passed. And when I read it, there was actual literal magic on the page and in the room. I felt like I had entered a world that had been trapped in my psyche and I just opened this door.
AmNews: What was the play about?
KY: That's a deep question because I feel like All the Natalie Portmans focuses on many themes and can tell many stories depending on what resonates with you the viewer. Everyone is watching a different play because we are all different.
At its core (to me), it's the story of a teenager with big dreams and hopes to get out, grieving the loss of her father and dealing with her alcoholic mother and loving brother, who ends up acting out of desperation and suddenly she is stuck with the responsibility of being an adult...growing up fast and leaving her dreams behind. It is also about a teenager who is obsessed with pop culture and a total cinefile but ultimately - that is the obsession with whiteness and white hollywood.
AmNews:What was the message of the production?
KY: How the media can shape the ambitions and aspirations of the young mind, specifically in this case, black youth, there are so many messages in All The Natalie Portmans.