De Blasio's evolving blueprint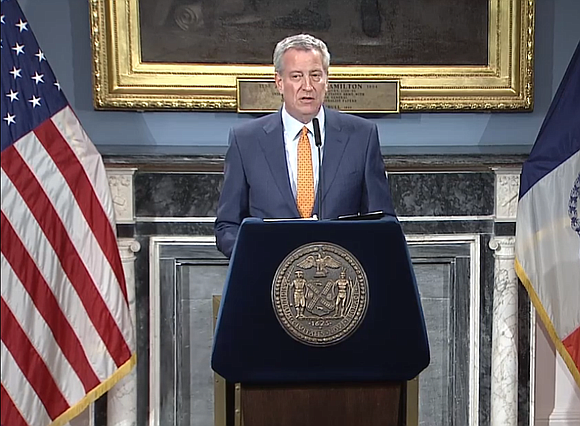 During a recent interview with the AmNews, Mayor Bill de Blasio discussed racial disparities during the COVID-19 pandemic and how the city plans to move ahead.
De Blasio appeared on the April 23 episode of the AmNews podcast. Just days after he created the COVID-19 Racial Disparity Task Force and appointed his wife Chirlane McCray. Deputy Mayor Phil Thompson is joining McCray on the task force, according to reports. African Americans account for only 22% of NYC's population but 28% of coronavirus fatalities.
In a statement, Public Advocate Jumaane Williams applauded the mayor for creating the task force but said there should be action for long-term solutions.
"The primary function of this task force cannot be to engage in a long, protracted process of deliberation and study, dwelling on how we got here. We know this disparity was created by a long history of systemic inequities and injustices," Williams said. "Additional delays waste time that the people being devastated by this crisis––those who are deemed essential but treated as expendable––just don't have."
On Sunday, de Blasio also appointed eight civic leaders who will help the city formulate a broader COVID-19 post-crisis recovery effort. They include Jennifer Jones Austin, CEO of the Federation of Protestant Welfare Agencies, Inc. (FWPA), and Patrick Gaspard, president of the Open Society Foundation.
"We're seeing a really disturbing disparity where people of African descent are being hit very hard by this disease, disproportionately hard," de Blasio said. "And it goes back to a lot of things we all know too well, it goes back to massive disparities in health care predating this crisis, the fact that health care in this country is given out according to income and, you know, is not universal the way it should be."
The mayor added that the COVID-19 pandemic has further uncovered racial disparities in the city's health system and structural racism. He says plans are being made to have a different approach to healthcare in the future.
As of April 28, over 156,000 people in New York City have been infected with COVID-19 and nearly 17,000 have died. The city continues to be the epicenter in the nation for the coronavirus pandemic. While Gov. Andrew Cuomo announced this week that parts of the state will reopen, New York City will remain on lockdown.
Closing down nonessential businesses, the schools, bars and restaurants, and requiring people to stay home and enforcing the social distancing are key to opening the city back up, de Blasio said.
"The reason we are finally able to say that our healthcare system has held through this crisis, our health care workers have held was because New Yorkers did the right thing and really followed those standards, and it helped us begin to turn the corner," he said. "But the big question is where do we go from here? I think what you're going to see is the month of May now becomes decisive."
As New York City marks two months since the first confirmed COVID-19 case, focus is also now on testing and contact tracing. More testing centers have been established in the city, especially in Black neighborhoods. Those who test positive for COVID-19 will be traced to find out who they've been in contact with to test them as well. Quarantining is also being stepped up.