Liberty picks look forward to summer in NYC
LOIS ELFMAN | 4/30/2020, midnight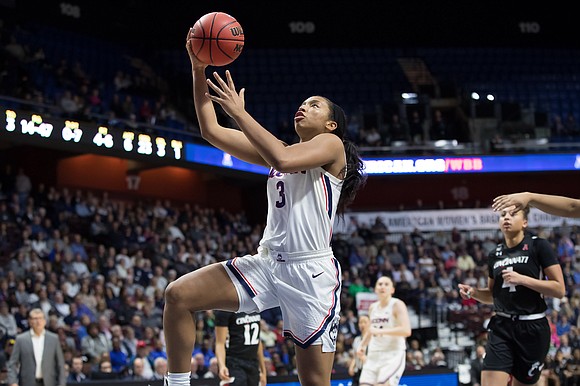 Home court will be Barclays Center in Brooklyn and the New York Liberty are going to have a definite youthful vibe. Tina Charles was traded to the Washington Mystics and guard Brittany Boyd was waived. First-year head coach Walt Hopkins is rebuilding the team pretty much from scratch, starting with the six draft day acquisitions.

With Charles and guard Bria Hartley gone, the Liberty was down two UConn Huskies. Not to fear, forward Megan Walker, an AP First Team All-American, declared for the draft one year early and was chosen ninth. Her freshman year she played alongside UConn alum Kia Nurse, so there is a familiar face in New York. Walker is excited to share the court with top pick Sabrina Ionescu.
"She likes to pass; that's not a secret, and I like to score, so I think we'll have a great chemistry on the court and it'll work out just fine," said Walker.
With the final pick of round one and the first pick of round two, Hopkins chose two University of Louisville players, guard Jazmine Jones and forward Kylee Shook. Moments after her name was called, Shook heard from former Louisville teammate Asia Durr, the Liberty's first-round pick in the 2019 draft.
"It's amazing being able to be with my teammates and join them knowing that we've had chemistry for three or four years," said Shook. "On top of that, the coaching staff in New York, I really bonded with them when I was talking to them."
Shook watched the draft with family in Colorado Springs. To keep in shape for the WNBA season she's been following a workout program from Louisville's strength and conditioning coach. Working out at Colorado altitude helps with endurance.
With the 15th pick, the Liberty chose Leaonna Odom, a 6-foot-2 forward from Duke University. Odom watched the draft from a friend's home in North Carolina, instead of heading home to California. She chose Duke for its stellar academics and is undaunted by hard work.
"It was my dream school, so I always knew deep down in my heart I was going to go there," said Odom. "I wouldn't trade the experience for anything. … Draft night was pretty cool. I didn't get to experience it with my parents in the way that I would have planned because of COVID-19, but I still got to FaceTime them and we got to experience it together. It was a very exciting night for the family.
"I'm thankful that the Liberty gave me an opportunity to play in the WNBA," she added.