With a variety of picks, the Jets filled their needs
VINCENT DAVIS | 4/30/2020, midnight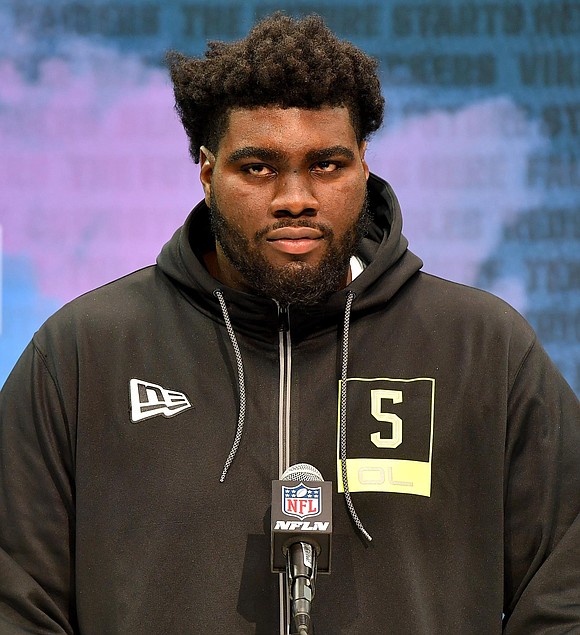 Ten players had already been chosen. NFL commissioner Roger Goodell, the host of the NFL Draft, had already given his welcoming speech and explained how the seven rounds of this year's virtual NFL Draft would be conducted. The first round was live from his basement in lower Westchester County.
There was no big production in a pre-chosen city as in years past. No red carpet. No gathering of players and their entourages in the VIP area waiting to be chosen by one of the NFL's 32 teams.
Also missing were the fly suits and outfits worn by the players who walk onto the stage when/if they're called to be ceremoniously congratulated with the customary man hug by the commissioner.
The customary "booing" of the commissioner, to open the program, a popular highlight for years, was done virtually.
Of course, as usual, a quarterback was chosen first overall. This year by the Cincinnati Bengals; Joe Burrow, the 2019 Heisman Trophy winner from LSU. The draft wasn't lit as it has been, but more importantly, it escaped the technical difficulties that it has sometimes faced.
Addressing his virtual audience after the Cleveland Browns made the tenth pick of the night, Goodell made his next announcement.
"With the eleventh pick in the 2020 NFL Draft, the New York Jets select, Mekhi Becton, Tackle, Louisville."
Becton, the Jets' first pick of nine total throughout this year's draft, and the first pick by General Manager Joe Douglas, his first in this position since joining the Jets a year ago, was a standout at Louisville from the start of his freshmen year in 2017.
As a freshman, Becton started 11 of 13 games at tackle and was named a starter as a sophomore and through his junior season in 2019.
Becton received first team All-ACC honors at the conclusion of 2019's regular season, but he decided to forgo Louisville's Bowl game and his senior year, declaring for the 2020 NFL Draft.
At 6-foot-7, 364 pounds, Becton, who attended Highland Springs High School in Virginia, was chosen with the eleventh pick overall five days after his 21st birthday.
As the offensive tackle, Becton's job is to block, physically keep defenders away from the offensive player who has the ball from the line of scrimmage and enable them to advance, to score.
Primarily, he's protection for Jets' quarterback Sam Darnold, one of Douglas' initiatives/goals for this year's draft.
"I can't tell you how excited we are to add him to our team," said Douglas with some jubilance about his pick.
"The first thing that jumps out about Mekhi when you see him play is the size and the ease of his ability to move," Douglas noted. His footwork, heavy hands and ability to move people off the ball also impresses him.
Benton, who thought that he might have been chosen earlier in the draft, also exuded some jubilance.
"It was surreal when I got the call," said Becton while talking to media members after being chosen. "It was a great moment."
Douglas also firmed up several other key positions with his picks; Daniel Mims, wide receiver from Baylor (second round / #59), Ashhtyn Davis, safety from California (third round / #68, Jabari Zuniga, also chosen in the third round, pick 79, a defensive end from Florida.
Douglas also selected Lamical Perine from Florida, a running back with the 120th pick in Round 4, quarterback James Morgan from Florida International with their 125th pick, and Cameron Clark, another offensive tackle, from UNC Charlotte, pick 129.
With their last two picks, the Jets chose cornerback Bryce Hall, pick 158th from Virginia and Braden Mann, a punter, the 191st pick from Texas A&M.