BANANA PUDDIN' LIVE, BERTA ALLOWAY JAZZ HERO
Ron Scott | 8/6/2020, midnight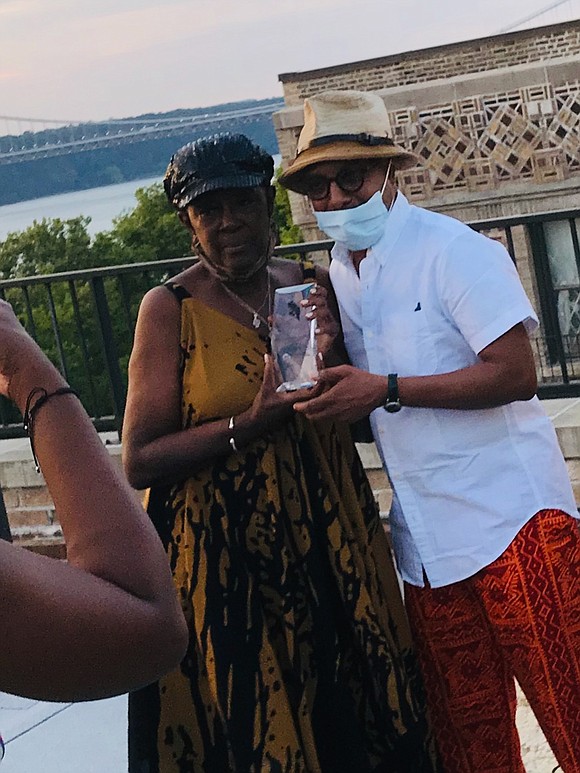 Rome Neal's Banana Puddin' Jazz Jam will celebrate its 17th anniversary on Aug. 9. Due to the COVID-19 pandemic it will not take place at the Nuyorican Poets Cafe where his long list of jazz followers would turn the place into a loud-in-person, jump-for-joy blowout as you eat his delicious banana puddin'. Don't fret, Neal, like everyone else, is doing the next best thing—it will be seen virtually on FaceBook and YouTube. The anniversary list of special guests is so long you can still invite one or two people over and have a super jazz blowout.
Some of the many all-star musicians participating in this beast of a celebration will include Dee Dee Bridgewater, Keith David, Chip Ojiisan Crawford, Frank Owens, Patience Higgins, Antoinette Montague, Sheryl Renee, Chembo Corniel, Dwayne "Cook" Broadnax, Leonieke Scheuble and Nick Scheuble, Eric Frazier and Lonnie Plaxico.
The Banana Puddin' Jazz Jam and Open Mic was conceived by Neal on April 7, 2003 at Lower Eastside's revolutionary Nuyorican Poets Cafe. After going out to many jazz clubs doing research on jazz musicians in order to develop the Thelonious Monk character in Laurence Holder's one-man play (Monk), Neal found himself at quite a few jazz jam sessions. He became ecstatic over the musicianship and environment which instilled in him a desire to bring that same jam session energy of the '40s and '50s downtown to his artistic home at the Nuyorican.
When Neal started his Jazz Jam and Open Mic he was carrying on the tradition of live jazz music being presented in the community for affordable prices. It was the iconic jazz promoter and publisher Jim Harrison who pioneered promoting community live jazz in the 1950s into the late 1960s; some of his concerts featured legendary vocalists like Irene Reid, Leon Thomas and Joe Lee Wilson and saxophonists Frank Wess and Frank Foster. Over the years Neal has presented such noted musicians as Onaje Allan Gumbs Trio, Cynthia Scott, Bill Lee and His Mo' Better Quintet, pianist and vocalist Donald Smith Trio, Bill Saxton, and Amiri Baraka's Band.
Neal added his favorite banana puddin' dish which he makes for everyone to enjoy like the music, and the banana puddin' jazz jam poem, a group poem written by the audience in attendance on the night of the event and recited by one of the patrons with the musicians playing a soft background jam, and finally it is emailed to everyone on his email list. The Banana Puddin' Jazz Jam evenings begin with a featured band preceded by an open mic that welcomes musicians, singers, poets and dancers to perform. All hosted by Neal, who also entertains through song and dance.
The multi-award winning AUDELCO actor and director will present the Shakere Award to selected persevering supporters of the music.
The 17th anniversary celebration begins at 7 p.m. EST. You still have time to learn how to make your own banana puddin' for the big event.
Since the Jazz Journalists Association (JJA) began its Jazz Heroes campaign in 2010, they have announced the awardees in conjunction with its annual, voted-for Jazz Awards for excellence in music and music journalism. Jazz Heroes include educators, non-profit administrators, public faces of grassroots organizations, writers, and broadcasters, who proudly continue to celebrate and promote this music called jazz from their chosen platforms.