Outdoor dining safety
KYSHA HARRIS Food Editor, @SCHOPgirl | 8/6/2020, midnight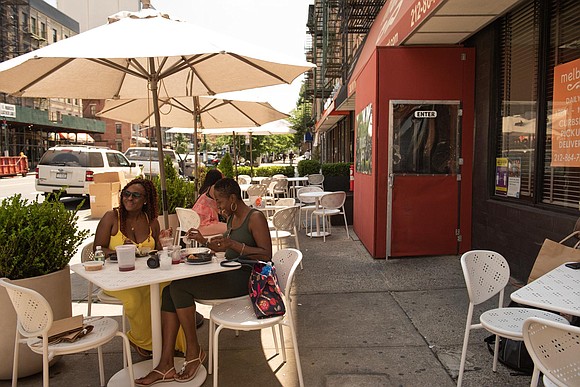 Let me disclaim first. We know the hospitality and service industries have taken a severe hit due to the COVID-19 pandemic. Many businesses have permanently shuttered across the country and of course right here in Harlem.
I am grateful for the strength, fortitude and generosity of spirit of our Harlem restaurants. Even when indoor dining was cancelled in Phase 4 of reopening, Harlem restaurants fortified themselves with outdoor dining, building huts and spaces on sidewalks and in adjacent parking spots.
Here is the concern I see needing addressing. Between the seating on sidewalks and the spaces created in the street (which I have seen some less than 6 feet apart), pedestrians have to walk through a gauntlet of mask-less, socializing people of which some are seated and some just standing "outside" hanging out or waiting for a table without any direction from restaurant staff.
Yes, there is a spectrum of people with myriad protocols for their personal safety, which some might think are extreme and cannot be met. However, during these times and as restaurant owners, it is just good business to make best efforts to protect everyone in our neighborhoods and not just the diners.