Talking SCHOP! Get OUT! Part II
KYSHA HARRIS Food Editor, @SCHOPgirl | 8/6/2020, midnight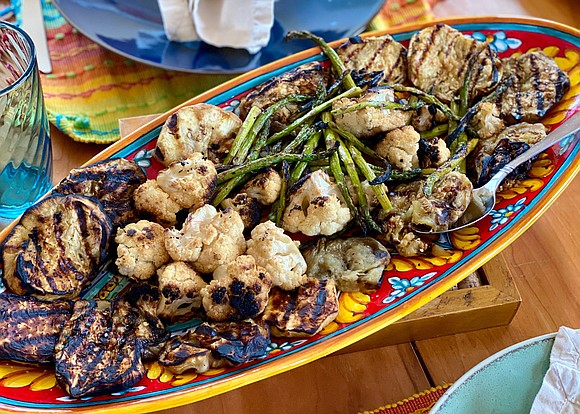 Thank you to all who are wearing their mask…on their face…covering their nose and their mouth. Thanks also to the chin-masked, the lower lip-masked, the elbow-masked, the hand-masked and the maskless for demonstrating what you think of others' lives. It is noted.
Last I left you, I was on cloud nine basking in chorizo bolognese over harissa linguine and a bottle of GMS at my friend Dr. Carl's home. After a beat, he segued us to a fresh blueberry tart and tea. I went to bed full, happy and tired. Good night.
The next morning, before heading out for a quick hike, we enjoyed a continental breakfast of fresh brewed coffee and a mess of croissants I brought from Harlem's Les Ambassades. J'adore their almond croissant. The plain croissants and pain au chocolat got the business too.
Carl and I stopped at a Mennonite roadside produce stand for a couple of items. I saw the gorgeous seedless watermelons and cantaloupes so one of each needed to come home with me plus some sourdough pretzels and some handmade crafts including another mask (for my collection).
When we returned home, my fur sons and I went for a swim in the lake before the early supper. Carl grilled some salmon burgers and prepared the sweetest corn he purchased at the stand. I added some quick tartar sauce and a light non-mayo coleslaw and the quintessential summer meal appeared.
Sunday's menu began with pan perdu (aka French, french toast). Carl found the perfect egg bread calling for its glory to be cooked in butter after backstroking in a sweet cinnamon milk-egg wash. Crispy oven-made bacon, heated maple syrup, fresh orange juice and more of that coffee fortified me for another active day in the lake.
My fur sons and I were having such a great time in the lake with the neighbors, Carl had to call us in for dinner from the window like we were on the ranch, "SUPPER TIME!" We shuttled up to the house and got ready for the dun-dah-dah meal of the weekend.
Avid travelers, Carl and his partner Rick's last trip before the pandemic was to the French Antilles. Since Carl is a bit of a Francophile and has travelled to France many times, seeing this French territory on the west side of the Atlantic made sense.
As he does, Carl brought back the flavors of his journey and blessed us with colombo, the French cousin of a curry, of braised chicken thighs and potatoes. A grilled vegetable assortment, plus the humble but essential bread and butter made me feel right at home.
Carl briefed us on the wine of the evening. On theme, it was a French rosé called Rosé de Minière produced by a woman vintner of a chateau owned by women for over two centuries. On the drier side, bright with lots of minerality, it cleaned the palette well. Dessert of a sweet fresh peach and blueberry crisp was a boon.
I wanted to barricade myself in my bedroom and never leave. Alas, Monday morning, it was back to Harlem and quarantine.
Thank you for the reprieve Carl. It was right on time as per usual.
Stay safe, wear a mask, eat well and thanks for reading!
Kysha Harris is a food writer and editor, culinary producer, consultant and owner of SCHOP!, a personalized food service in NYC for over 15 years. Follow her on Twitter and Instagram, @SCHOPgirl, on Facebook, /SCHOPnyc, and her blog, www.talkingSCHOP.wordpress.com. Questions? Comments? Requests? Feedback? Invitations! Email AmNewsFOOD at AmNewsFOOD@SCHOPnyc.com. Follow us on Instagram, Twitter and Facebook @NYAmNewsFOOD and tag us with #SoAmNewsFOOD with your food finds!