JAZZ NOTES: Carnegie Hall Memories
Ron Scott | 8/20/2020, midnight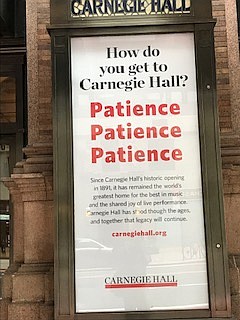 My doctor's office called to inform me it was time for an in-office visit. Yes, the tele-visits were over and it was safe to return to having the doctor actually touch my chest with his stethoscope, as well as get a health update and have a conversation. Wow, I was so excited about this upcoming visit going downtown. Can you imagine, we aren't talking about a hot date, a great upcoming concert or a night hanging with friends, no, it's a doctor's appointment!
This COVID-19 virus has altered our minds to set up new residence in the scary pages of the great sci-fi author Octavia Butler, where doctor visits have become something to shout about with joyful glee. Just as a point of reference, the visit went well and yes the touch of that stethoscope on my chest was so satisfying.
Leaving the doctor's office, I decided to get some exercise by walking, since all the gyms were still closed. Walking up Sixth Avenue past Radio City Music Hall and all the closed and some boarded-up shops was very disheartening. What is so amazing about walking in midtown is that it looks like a ghost town, something surely out of a sci-fi movie. In the middle of the summer at 85 degrees, the streets are empty. This time last year you were between the tourists elbowing you as they stumbled by looking up up up at those skyscrapers, and those hustling bustling New Yorkers that elbowed you because you didn't move fast enough and look out for that damn bike messenger. I miss the elbows and sometimes having to walk in the street because the sidewalks were so busy, or taking the occasional tourist family "look we're in NYC" photos.
Before long I looked up and found myself in front of Carnegie Hall. Still no people; at this time of day the great performance hall would be open with folks scurrying inside purchasing tickets for classical music as well as jazz. Outdoors would be packed with people. I was standing on the edge of the curb right in front when I remembered one summer afternoon, my brief conversation with the great crooner Bobby Short, who reigned king of the cabaret singers at the Café Carlyle for over 35 years. I had originally met Short at his luxurious Sutton Place apartment maybe a year before when assigned to interview him for this publication. As I stood in front of Carnegie Hall that day, Short came out of the Russian Tea Room dressed summer hip in a grey-striped seersucker suit along with a woman who was just as elegant. He came up to me and said, "Hi Mr. Scott, how are you doing?" and introduced me to "his close friend Gloria." His friend was Gloria Vanderbilt. The fact that he came over and spoke with me and the introduction put me in the clouds. And then he reminded me, I was welcomed as his guest to see him perform at the Carlyle anytime, just call and his assistant would take care of it, Wow. Thanks to him I became somewhat of a regular at the upper crust Café (not to mention dinner and drinks were taken care of). Short was an outrageous performer and great human being with a good sense of humor. Sometimes I use his favorite phrase "Big Deal." Although I mentioned he would always be credited, he assured me it was all right to adopt it as my own but my giving him credit just contributes to keeping his extraordinary memory alive.