2020 NEA Jazz Masters, Allen Harris live
Ron Scott | 8/27/2020, midnight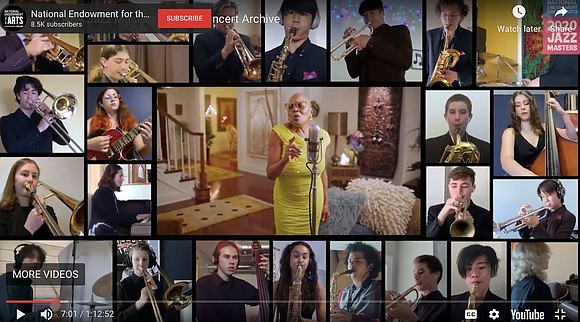 This year's 2020 NEA Jazz Masters Tribute Concert and presentation took a detour from its usual presentation due to the COVID-19 virus. In an ironic twist this was a blessing for jazz fans. The annual NEA Jazz Masters presentation is usually not televised, but this year thousands of people worldwide were able to enjoy the live-stream from the comfort of their homes. For the second consecutive year the San Francisco Jazz cultural center (SFJAZZ) hosted the event. Unfortunately, the founder of SFJazz Robert Kline sat on the organization's empty mainstage while a set of drums and piano looked on with sadness as he introduced the prominent singer and 2017 NEA Jazz Master Dee Dee Bridgewater, who hosted the event from her beautiful home in New Orleans.

Bridgewater, wearing a fabulous lime colored dress with matching necklace and her signature large color framed (white) glasses, opened the show with an energetic up-tempo tune "I Love Being Here With You," accompanied by the SF High School Masters All-Star Jazz Band, each member playing from their own home.

The National Endowment for the Arts, in collaboration with SFJAZZ, honored the 2020 NEA Jazz Masters: jazz activist Dorthaan Kirk; vocalist, composer, conductor and educator Bobby McFerrin; saxophonist, composer and educator Roscoe Mitchell; and bassist, composer, educator and producer Reggie Workman. Drummer and composer Terri Lyne Carrington served as musical director of an all-star cast including saxophonists James Carter and Oliver Lake, bassist Gerald Clayton, and trombonist Steve Turre, all performing from locations around the country.
During her acceptance speech Dorthaan Kirk, a native of Texas, who started at jazz radio WBGO in its embryonic stage, noted, "'Bright Moments' is finding out you are the recipient of the NEA Jazz Masters award." "Bright Moments" is a popular song composed by her late husband, the saxophonist/multi-instrumentalist and composer Rashaan Roland Kirk. In his honor the house band performed a medley of Kirk's music including "Dorthaan's Walk." Dorthaan stated, "My most favorite project was the Children's Concert series that I produced for 25 years at WBGO, which was my second home." Known as "Newark's First Lady of jazz," she thanked Steve Robinson, who recommended her to the founder of WBGO Bob Ottenhoff and the rest became history. She recently retired from the radio station after 39 years. Prior to the coronavirus she continues to produce Bethany Baptist Church's Jazz Vespers in Newark, New Jersey (in its 20th year).

The bassist Reggie Workman, a native of Philadelphia, has the distinction of playing with such musicians as John and Alice Coltrane, Oliver Lake, Herbie Mann and Thelonious Monk. During a recorded interview Workman mentioned a conversation with John Coltrane when he asked him how to approach a certain tune. Coltrane responded, "I am having a hard enough time playing this sax, you figure it out." During his acceptance speech Workman noted, "Education is my second name; I have been ordained to give back this great music that was given to me."
Roscoe Mitchell is sometimes known as the scientist of sound because of his willingness to play anything from a bicycle horn to whistles. He was the founder of the Art Ensemble of Chicago and a member of Association for the Advancement of Creative Musicians (AACM). "I am honored to receive this award. My father told me I can be whatever I want to be if I want it bad enough," Mitchell stated during his acceptance speech.