Korey Wise, electeds and Friends of Public School Harlem give out school supplies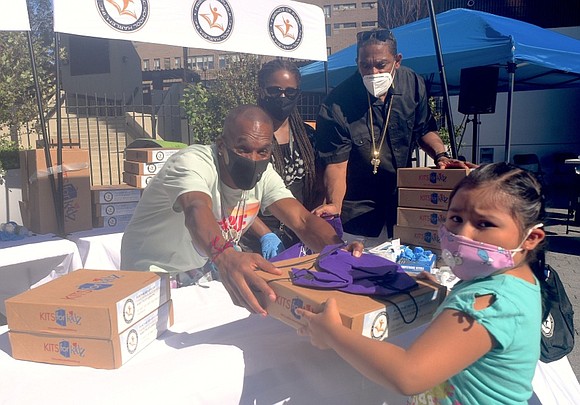 This week at an event sponsored by Friends of Public School Harlem with a special grant from The Migdol Family Foundation, Exonerated 5 member Korey Wise at Schomburg Plaza helped Harlem families get ready for a most difficult first day of school. Wise was joined by local elected officials Congressman Adriano Espaillat, Councilman Bill Perkins, Leader Keith Lilly and Assemblyman Al Taylor who helped to distribute backpacks, school supplies, and masks. The giveaway was held at Esplanade Gardens on Saturday, Aug. 22 with board members of Esplanade Gardens led by President Moire Davis.
Friends of Public School Harlem Inc. (FPSH) is a non-profit that provides much needed resources to Harlem's public schools and its students so that Harlem's students can learn, compete and achieve. They say that they "seek to level the playing field so Harlem's students and schools can reach their full potential and feel the success they are capable of and want so much to achieve," by donating resources to the students and the public schools of Harlem. To date, FPSH says that it has donated over $600,000 in conjunction with the Migdol Family Foundation and given over 15,000 school supply kits for kids, 500 computers and iPads, and this year we will be giving away another 4,000 school supply kits along with backpacks for Harlem's public schools.