You can soon make your way to Madeira
SHERYL NANCE-NASH | 8/27/2020, midnight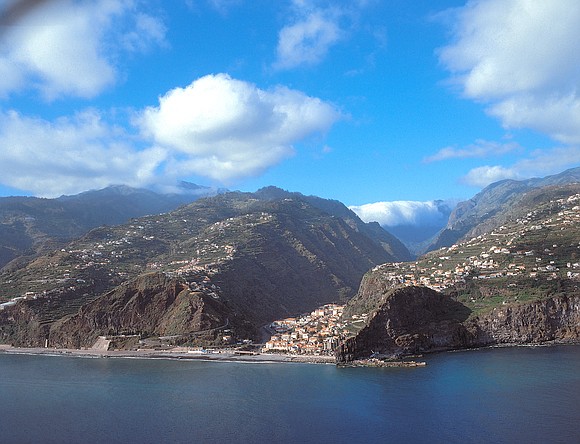 Now that TAP Air Portugal has announced it will resume flights from gateway cities like New York in late October, it's time to move beyond dreaming and start planning for a trip to Portugal's magical Madeira. For sure this island will be an antidote of sorts for those looking for revitalization after the havoc wrecked by the coronavirus pandemic. The scenery alone is healing—volcanic mountains, forests, vineyards, dramatic coastline and the bluest of sea.
The Madeiran Archipelago is located in the Atlantic Ocean about 280 miles from the Canary Islands, 310 miles from the Moroccan coast, and about a 90-minute flight from Lisbon. Don't be fooled by its size, just 35 miles long and 13 miles wide. There's plenty to do and see, from beaches, galleries, museums like the Sacred Art Museum, golfing, footpaths and levadas (handmade channels carved into the rock which serve to transport water), and nature reserves to explore. For the adventurous there's hang-gliding, paragliding, canyoning, trekking and the like. Much though is centered around Funchal, the capital city, which has nearly 120,000 residents, about half of the population that calls Madeira home.
With so many options for entertainment, consider at least doing one or two tours to maximize your time. For example, True Spirit offers a variety of tours. You pick and choose what tickles your fancy. You can take in Cabo Girão, which at over 1,900 feet tall is the highest sea cliff in Europe. Venture out on the skywalk with its suspended glass floor for views that are beyond spectacular of the Atlantic, Câmara de Lobos and Funchal. This will be no doubt one of the most awesome sites you'll see during your trip. Consider Rabaçal for a 3-hour walk exploring an evergreen forest, valleys, waterfalls and natural springs. Then there's the historic fishing village of Câmara de Lobos. Visit volcanic pools in Porto Moniz, one of the most popular spots in Madeira. Swim in crystalline waters with epic surrounding scenery. True Spirit also offers wine tasting of the legendary Madeiran table wines. In Sao Vicente you'll find Barbusano makers of some of the best table wines in the region.
To end your day with a wow, have dinner at the Nini Design Centre where you'll feast at Restaurant DC Atelier. Try the octopus, scallops, black angus fillet, lacquered black pork with thyme and lemon, or the snapper with mustard crust, potato terrine and cream of leek. There's an impressive wine list to pair with your meal. Enjoy the water views of the city skyline aglow at night.
You do want to experience the heart of the city of Funchal. Ride the cable car to reach the Monte Palace Tropical Gardens. There are gardens and then there are gardens. This one is in a class by itself. The flora is from South Africa, Belgium, Scotland, Australia, Portugal and more. Two gardens pay homage to Chinese and Japanese culture, with marble dragon, pagodas, Buddhas and lanterns. Throughout the gardens and on the central lake, swans from Iceland and Scandinavia swim. The three-story Monte Palace Museum on site boasts some 700 specimens of minerals and gems from Brazil, Portugal, South Africa, Argentina, Zambia, Peru and elsewhere. You'll be blown away by the sparkling colors, shapes and gems. The Berardo Collection features stone sculptures from Zimbabwe. All around the gardens there is much to capture your attention, be it tiles from the 15th to 20th centuries along walkways, or the series of tiles that tell Portuguese history. Settle down for a lunch at Patio das Babosas. Forget eating light at this lovely café. Even if you order a salad, it will be a mouth-watering heap of goodness enough to feed two. No worries, wash down whatever you order with the oh-so-refreshing Brisa Maracujá, a carbonated drink made from the juice of purple passion fruit.