'Mr. SOUL!'—a reclamation of important TV history
NADINE MATTHEWS | 12/24/2020, midnight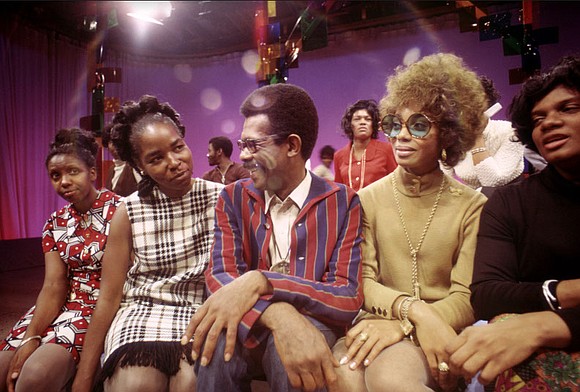 Like a re-discovered treasure, a video clip of iconic poet Nikki Giovanni and legendary novelist James Baldwin has been circulating on social media for a few years now, a pleasant surprise for those who come across it. The duo communicate with stark honesty about issues confronting the world in general, and the Black American community in particular. A fusillade of trenchant observations and declarations on race, gender and sexuality, it's piercing television, even with the not so well-lit London studio as its backdrop. It was a little-remembered public television arts program called "SOUL!" that originally aired this landmark interview.
"SOUL!" came about in the wake of the 1968 report by the Kerner Commission, which sought reasons for the slew of civil disturbance across the nation in the early to mid-1960s. The commission pointed to an overall dearth of Black representation on television and stereotyped characterizations when they were on. "SOUL!" and public affairs program "Tony Brown's Journal" were added to New York City's public television network's schedule in 1968 and went national a year later.
This groundbreaking show, which aired through 1973, is the subject of "Mr. SOUL!," a documentary. It was written and directed by Melissa Haizlip, the niece of the show's producer and host, Ellis Haizlip, a Howard University educated connoisseur of the arts, who had been producing plays since his childhood days in Washington, D.C.
One of the first programs with a Black producer and majority Black staff, "SOUL!" was dedicated to centering and amplifying Black culture. In 1968, that meant culture substantially influenced by the Black Arts movement, which was itself heavily influenced by the Black Power movement. The program indirectly sought to repudiate the stereotypical images of Blacks in scripted programming, and provide context for images of angry Black Americans in news coverage.
Stated poet Sonia Sanchez, who was also featured on "SOUL!" in her "Mr. SOUL!" appearance, "What [Haizlip] was doing was changing people's minds about Black culture, about what it meant to be Black in America and what young people were doing to effect change."
"Mr. SOUL!" demonstrates, through a bevy of archival footage, Haizlip's confidence in the legitimacy of Black culture and its universal relevance. His gentle, unhurried, polished, yet penetrating manner conveyed Haizlip's solid belief the public would embrace Black thought and Black creative output in all its diverse forms.
"SOUL!" used music as its centerpoint, but regularly showcased modern dance, socio-political discourse and literature. It was the only show to regularly provide a platform for poetry, something still relatively unheard of on television with the exception, perhaps, of "Def Poetry Jam."
"SOUL" also provided a platform for people such as avant-garde jazz musician Rahsaan Roland Kirk, i.e. talents who did not easily fit into any mold, and was the launchpad for many others who would go on to become household names, such as Earth, Wind and Fire, Kool and The Gang, Ashford and Simpson, and others who made their national TV debut on the show. "SOUL" also pushed the envelope with guests seen by some as holding radical views such as The Last Poets, Amiri Baraka, Stokely Carmichael and Louis Farrakhan.
States Gayle Wald in "It's Been Beautiful: Soul and Black Power Television," a book that could easily act as a companion volume to "Mr. SOUL!," "For its creators and viewers, 'SOUL!' was a heady experiment in what might be achieved when Black people gained authority over their representation on television."
Performances on "SOUL!" were as much for edification as for entertainment. Blacks having authority over how the productions came together were able to make definitive statements about the Black community through visual presentation and performers' choice of dance, song or poem without need for exposition.
One example is in footage of young Felipe Luciano, then an activist and poet who would go on to become a respected journalist as well, in an episode he guest-produced. Luciano presented rousing performances by Latinx musicians Tito Puente and Willie Colon, which in addition to wowing studio audiences and viewers, symbolized a solidarity between Blacks and Latinos, and affirmed the African presence in the Latin community and culture.
Through a careful presentation of both its musical performances and clips from some of Haizlip's interviews, Melissa Haizlip illustrates what substantially differentiated "SOUL!" from other programs featuring Black performers at the time. Whereas other Black performers doing guest stints on "The Johnny Carson Show" or "Soul Train" were simply entertainers, "SOUL!" demonstrated them as artists.


On the intimate and attentively designed set, sometimes designed like a jazz club with the audience positioned at small tables, "SOUL!" eschewed rehashing of certain grim realities, something almost expected during discussion of racial issues on mainstream programs. The conversations and performances tended to be solution-focused. It's taken for granted that the audience understands context, and that what's important is the affirmation of Black arts, uplift and a vision for the future.
The documentary also positions "SOUL!" as an early lesson in the limitations of visibility and representation. That is, representation does not necessarily translate into real power. "SOUL!" was watched in 65% of New York City households but that didn't translate into a viewership that could sustain it financially with donations, which in 1973, it needed.
Despite the show's primary emphasis on the arts, and its host Haizlip's relatively conservative delivery, left-leaning programming of its ilk on public television was perceived as threatening to the Nixon White House, who controlled the Corporation for Public Broadcasting's budget. They cut funding for the program in 1973, ending an era. Melissa Haizlip's documentary reclaims this important moment in television and Black cultural history.