Trump signs stimulus bill, but additional $2,000 remains in limbo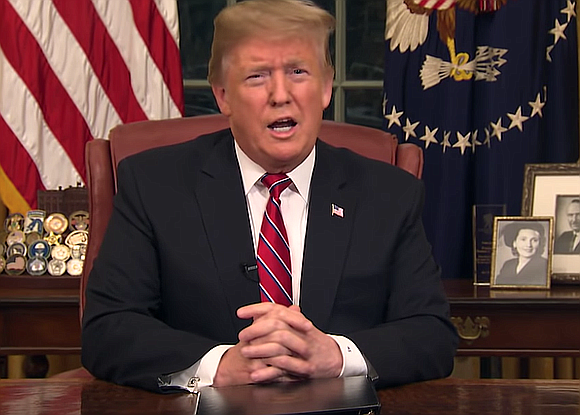 The American people celebrated a mini victory at the end of last week...and then that got slapped in the face this week.
After contentious negotiations, the House, the Senate and President Donald Trump agreed on a new stimulus bill that would send out one payment of $600 to citizens making less than $75,000 annually.
The bill also includes $300 weekly unemployment federal benefits, a $15 billion grant program for museums, theaters and live venues and a reopening of the Paycheck Protection Program that stopped taking applications near the end of the summer. The program will resume with loans being doled out only to small businesses with 300 or fewer employees.
U.S. Senate Majority Leader Mitch McConnell, however, dampened the relatively good news with bad news. Bad news as a result of his own actions.
On Monday, Dec. 28, the house voted to expand the one-time payment to Americans to $2,000, but McConnell blocked the vote on the payments' expansion from getting to the Senate floor.
Senators like Bernie Sanders vowed to filibuster the veto of a defense bill until McConnell brings a vote on the $2,000 payment to the floor. The payment has bipartisan support. Sanders' filibuster could push the override of the defense bill to New Year's Day.
In a statement, U.S. Senator Chuck Schumer called McConnell's actions a "cynical gambit" and told Senate Republicans to push McConnell into bringing the vote for $2,000 payments to the floor.
"Senator McConnell knows how to make $2,000 survival checks reality and he knows how to kill them," said Schumer. "If Sen. McConnell tries loading up the bipartisan House-passed CASH Act with unrelated, partisan provisions that will do absolutely nothing to help struggling families across the country, it will not pass the House and cannot become law––any move like this by Sen. McConnell would be a blatant attempt to deprive Americans of a $2,000 survival check."
Congresswoman Yvette Clarke told the AmNews that she was disappointed in the result, but not surprised by McConnell's actions.
"Majority Leader McConnell and the Republican Caucus have once again been caught playing chicken at the expense of the American people," said Clarke in an email to the AmNews. "While both the leader of his party as well as his rank and file membership have made clear that they support larger checks, and a clear majority of Senators have expressed support for sending the American people the help they need, McConnell has once again balked in the hopes of squeezing out concessions for special interests or withholding aid all together."
While she didn't respond to requests for comment, Sen. Kirsten Gillibrand said in a statement that the $2,000 payment would make a significant impact on many Americans.
"Along with every Senate Democrat, several Republican senators support these emergency checks, which will provide a crucial lifeline to millions of American families, who are struggling to keep food on the table and make ends meet," said Gillibrand. "Leader McConnell must end the obstruction and let the Senate vote to deliver this much-needed relief to American families."
Sen. McConnell eventually came back around to the $2,000 bill, but he wanted to attach the payout to a bill that would form a commission to study voter fraud and repeal Section 230 of the 1996 Communications Decency Act. A repeal of Section 230 would result in social media companies being held liable for content posted by its users. President Donald Trump's war against Section 230 started early in 2020 when the higher ups at Twitter started fact-checking and adding addendums to his tweets that contained lies.
Trump hopes to get the repeal of Section 230 during the final weeks of his presidency going as far as vetoing a defense bill because it didn't include a repeal of Section 230 (the Senate's in the process of overriding his veto). He took to social media to push for his desired outcome.
"Unless Republicans have a death wish, and it is also the right thing to do, they must approve the $2000 payments ASAP. $600 IS NOT ENOUGH!" Trump tweeted this week. "Also, get rid of Section 230––Don't let Big Tech steal our Country, and don't let the Democrats steal the Presidential Election. Get tough!"
McConnell is currently ignoring Trump and Sanders to further his agenda. The Senate Majority Leader is focused on the Senate overriding Trump's veto of the National Defense Authorization Act (NDAA). He urged Congress to focus on passing the bill instead: "...for 59 consecutive years and counting, Washington has put our differences aside, found common ground, and passed the annual defense bill," said McConnell on the Senate floor. "Not once in six decades has a Congress let its differences prevent it from completing this work for our national security and our men and women who wear the uniform. For the brave men and women of the United States Armed Forces, failure is not an option. So when it is our turn in Congress to have their backs, failure is not an option here either."
For her money, Clarke called out the Senate Majority Leader for ignoring the will of the people and being careless with the precarious state of the nation.
"The House has already passed a clean bill providing this much needed aid to help bridge the gap for families struggling to survive as we roll out the vaccines to the general public," said Clarke. "If he truly wanted to help those most in need during this pandemic, he would take up our work so that we can get checks out the door as quickly as possible."