AmNewsFOOD at the Oscars!
Kysha Harris | Food Editor, @SCHOPgirl | 2/6/2020, 12:55 p.m.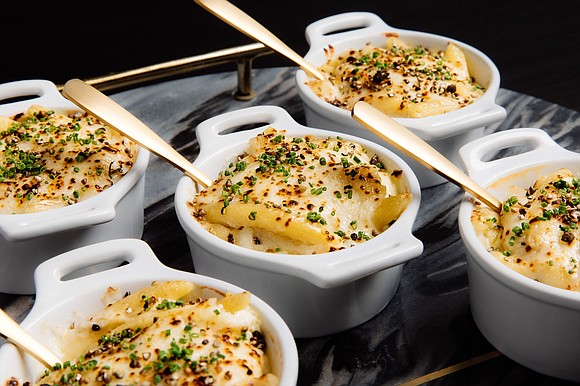 It is once again time to celebrate the best filmmakers at the 92nd annual Academy Awards. This year AmNewsFOOD is excited to collaborate with fellow lifestyle writers, Lapacazo Sandoval (@lapacazo) and Art Shrian Tiwari (@multisunill), as they are on the red-carpet rubbing elbows with the nominees and sharing the mostly vegan Governor's Ball menu of Chef Wolfgang Puck.
Of all the gorgeous looking dishes, there is one that caught my eye combining an American staple with an Italian favorite. We are talking cacio e pepe macaroni and cheese. We are in!
8oz cavatelli pasta
2 Tbsp salt
2 Tbsp butter
2 Tbsp flour
1 1⁄4 cup whole milk
1⁄4 cup shredded aged Vermont white cheddar
1 Tbsp parmesan
1⁄4 tsp pink peppercorns, toasted and ground
1⁄2 tsp black peppercorns, toasted and ground
1⁄4 tsp green peppercorns
Bring 2-3 quarts of water to a boil in a pot. Add salt to the water, then pasta. Cook for 8 minutes or to al dente. Strain.
In a heavy bottom pot, melt butter and then whisk in flour. Whisk for two minutes on low heat avoiding any color. Add milk to pot continuing to stir until the milk thickens to a creamy consistency and coats the back of a spoon. Add white cheddar, stirring to melt the cheese into the milk. Add ground pink and black peppercorns.
Add the pasta to the pot and stir in the Parmesan. Season to taste with salt and pepper.
Follow @NYAmNewsFOOD on Instagram as Lapacazo and Art will be taking over our feed on Sunday. And for more from this duo, check out their new Amsterdam News blog, Curtain Raiser (amnewscurtainraiser.com).