Celebrate Black History Month at Colonial Williamsburg
NADINE MATTHEWS | 2/13/2020, 1:30 p.m.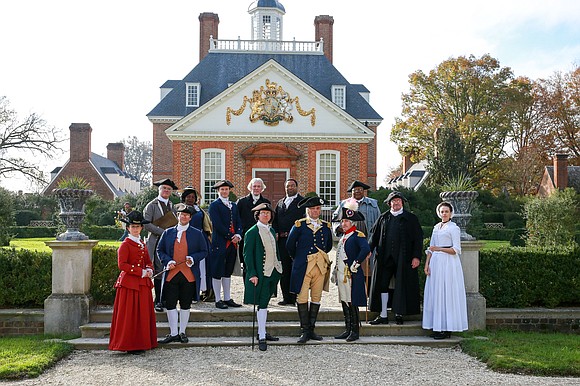 Upgrade your Black History Month celebration this year by going to Colonial Williamsburg! During February, Colonial Williamsburg, one of the country's largest interpretive museums, showcases the best of its intriguing year-round interpretation of 18th-century African American life in Virginia. Colonial Williamsburg's interpreters teach visitors about the people, society, and culture of Williamsburg during the colonial era. Many impart information costumed and speaking in first-person as a specific character.
One of the most salient things about the presentation of Black life in colonial-era Williamsburg is the diversity within the Black population, which accounted for over fifty percent of Williamsburg residents. Some were enslaved, some were not. Some were business owners, some relatively well-respected paid workers. Many were mixed-race.
The faithfully reconstructed eighteenth-century Williamsburg bustling thoroughfare, Duke of Gloucester Street, is the site of much of the interpreting. Here visitors will find characters like John Hope The Famous Barber of York. Hope rose to prominence for his preternatural skill and eventually became so well-known and respected by his elite clientele, they petitioned the legislature to free him.
Memorializing by name each of the enslaved African-Virginian men and women known to have lived in Williamsburg from 1763 to 1785 is the special exhibition "Revealing the Priceless: 40 Years of African American Interpretation," which visitors can catch at Raleigh Tavern. This exhibition pulls back the curtain to reveal contributions of hundreds of interpreters, administrators, historians, archeologists, curators and community partners who have contributed to telling their story in the forty-year period since Williamsburg began incorporating African Americans into its overall programming. Look for the picture of a certain handsome TV doctor and real life social activist who participated in a special interpreter program in the past!
Visitors can get a powerful behind the scenes look at the people doing the interpreting in the stellar "My Story, My Voice" program which not only presents personal stories, but also explains what they do in order to more perfectly embody their characters.
"African American History in the Galleries," on Tuesdays and Thursdays at the Art Museums of Colonial Williamsburg's Hennage Auditorium, explores the accomplishments in art, of a number of African Americans from the 18th through 20th centuries. Other February programs at Art Museums' Hennage Auditorium include:
"An American Story: Edith Cumbo" at 1:30 p.m. Feb. 1, 22 and 29. Meet Ms. Edith, a free Black woman with five brothers fighting in the Revolutionary War.
An enlightening discussion of the Bray School for Black children called "Teach them Diligently," recalls how special a place it was. Williamsburg trustee Robert Carter Nicholas, after visiting the school in 1762, reported that "at a late visitation of school we were pretty much pleased with the scholars' performances, as they rather exceeded our expectations."
Many Blacks in Williamsburg were highly educated and sometimes more so than their white counterparts. Jupiter Evans was one of them. Jefferson's childhood companion became his manservant as an adult among other things which included making Jefferson's heralded cider, helping to build Monticello and a host of other achievements. Meet him in "Jefferson and Jupiter: Across the Board" at 1:30 p.m. Feb. 10 and 17