Dianne Reeves, Dizzy's, GroundUp, Trio 3, Pearl Cleage
Ron Scott | 2/13/2020, 1:32 p.m.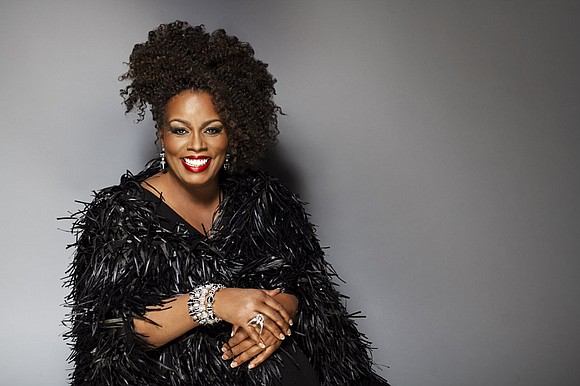 NEA Jazz Master Dianne Reeves will once again set an ambiance of intimacy with her enchanting vocal instrument during a Valentine's Day engagement on Feb. 14-15 in Rose Theater (60th St. & Broadway) at 8 p.m. She interprets songs with such vocal clarity so divine each becomes a lovers vignette capturing the hearts of all who dare to love on these two nights of chocolate kisses.
Reeves is carrying on in the swinging, stylish, spontaneous tradition of Dinah Washington, Ella Fitzgerald and Nancy Wilson. Like her iconic predecessors, she mesmerizes her audiences. Today, she is one of the few female singers who can be mentioned in the same sentence as Ella Fitzgerald. On songs like "A Chamada" her scats become haunting chants daring your soul to scream.  
Another Valentine's Day mood-maker returning to Jazz at Lincoln Center complex in Dizzy's Club is pianist and vocalist Freddy Cole with the Freddy Cole Legacy Band to perform "Songs for Lovers" on Feb. 14-17. The band will include tenor saxophonist Harry Allan, guitarist Samhe Raderman, bassist Elias Bailey (been with Cole since 2009) and drummer Jay Sawyer.
He was the subject of the 2006 documentary "The Cole Nobody Knows." The title was quite apropos when one considers he is the younger brother of Nat King Cole and since they both played piano and sang it was somewhat difficult for the younger Cole although he carved out a groove upon his arrival in New York City in 1951. Cole spent several months on the road with Johnny Coles and Benny Golson. Cole, a long-time resident of Atlanta, Georgia, was inducted into the Georgia Music Hall of Fame in 2007.
Although he has reached the state of octogenarian, his vocal sensitivity and effortless delivery endures to capture hearts and new fans come Valentine's Day. He performs two sets each night (Feb. 14-15) at 7 p.m. and 9:30 p.m. and (Feb. 16-17) at 7:30 p.m. and 9:30 p.m. For reservations visit jazz.org.
During the Valentine's Day weekend if you happen to be in sunny Miami, Florida from Feb. 14-16 check out the GroundUp Music Festival at the North Beach Bandshell. Hailed by the as "one of the 10 best music events" in Miami, not to mention the temperature should be anywhere between 75 and 80 degrees, just saying.
Snarky Puppy, the Brooklyn fusion band who made its international reputation off of wild improvisational jazz bits in the pop moment, will be featured at GroundUp along with singer, songwriter, keyboardist Michael McDonald (from The Doobie Brothers and Steely Dan) with saxophonist Chris Potter, Snarky Puppy bassist/bandleader Michael League and drummer/vocalist Jamison Ross.
The festival will also feature sets with Lila Downs Grammy winner Mexican folk singer, songwriter and actress. She performs her own compositions and the works of others in multiple genres; the self-styled vocalist Cécile McLorin Salvant; innovative trumpeter/composer Christian Scott aTunde Adjuah; drummer and songwriter Brian Blade & The Fellowship Band.
Thanks to Trio 3 the lines of jazz are blurred and their collaborative genius can't be categorized in the jazz pantheon. Trio 3 featuring saxophonist, composer, arranger Olive Lake; bassist, composer Reggie Workman and drummer/composer Andrew Cyrille will bring their home brewed jazz to the Jazz Standard (116 East 27th St.) on Feb. 20-23, two sets each night at 7:30 p.m. and 9:30 p.m.