Mike's Mess: Activists tell would-be presidential candidate Michael Bloomberg that his stop and frisk apology is not enough
NAYABA ARINDE Amsterdam News Editor and CYRIL JOSH BARKER Amsterdam News Staff | 2/13/2020, 10:42 a.m.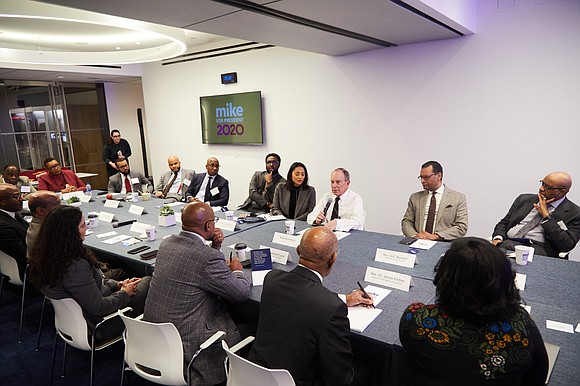 This week, once again would-be Democratic presidential nominee Michael Bloomberg is in damage control mode as he desperately walks back his 2015 declaration about his controversial stop and frisk policy which he implemented as New York mayor from 2002-2013. Print, network, cable and social media news cycles are in frenzied overdrive covering the fallout.
Decimated, devastated families impacted by Bloomberg's allegedly discriminatory 12-year-long stop and frisk policy are not healed by a protracted presidential campaigning apology, say grassroot activists such as Erica Ford and Tamika Mallory.
Ford, the founder of community
advocating Lifecamp Inc., said, "The impact of trauma historically and generationally is sometimes unfixable, and so if you don't understand the devastation of his
policies on Black men and Black boys…it changed their lives, they were harassed, they were subjected to militarized policing in the streets and in their homes every day. They were jailed, their families were destroyed, parents lost their jobs and marriages were disrupted."
"Black people should avoid Bloomberg like the plague," Assemblyman Charles Barron stated. "He still believes in stop and frisk. He said that Black and Latino mothers didn't understand or know how to educate their children. These are some of the insults he threw at us. But, with him there was so much more under Bloomberg—the poverty rate went up, the crime rate went up, stop and frisk went up. He hammered public education. He tried to give us the unqualified Cathy Black as schools chancellor. We had to run her out of town. He's not interested in learning, he's trying to buy the presidency like he bought the mayoralty. But, America is fickle. If they can elect Donald Trump, anything is possible."
According to FBI data, Black men committed 36% of murders and were 52% of murder victims in 2015 in the United States, a far cry from the "95%" former New York City mayor turned presidential candidate Michael Bloomberg said in a recently surfaced recording.
"You've got to get the guns out of the hands of the people that are getting killed," Bloomberg said in 2015. "You want to spend the money on a lot of cops in the streets, put the cops where the crime is, which means in minority neighborhoods. Ninety-five percent of your murders—murderers and murder victims—fit one M.O. You can just take the description, Xerox it and pass it out to all the cops. They are male minorities, 16 to 25. That's true in New York. That's true in virtually every city."
Reports indicate the infamous audio clip is from a speech Bloomberg made at an event with the Aspen Institute, a nonprofit think tank. The clip was released this week by Black podcaster Benjamin Dixon on the segment "Bloomberg's Racist, Classist Past" about the once Republican and Independent mayor turned Democratic presidential candidate.
"This is fundamentally a conservative worldview that has been damaging," Dixon said. "We're not just talking about young men getting arrested who should not have been arrested. We're talking about young men getting killed by the police because of the encounters this mentality creates."